'Dancing Dermatologist' Who Made YouTube Videos Over Unconscious Patients During Surgery Suspended
Although Dr. Windell Davis-Boutte faces multiple lawsuits, she insists she did nothing wrong.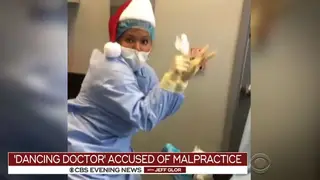 A Georgia dermatologist, who filmed and posted videos of her dancing with unconscious patients on the operating table, has been suspended from the medical board.
In several of her videos, Dr. Windell Davis-Boutte dances, raps, and sings for the camera while her patients lay unconscious during their surgery. Davis-Boutte is dermatologist who performs several procedures in her office.
Although she claims the videos are all in good fun, at least seven of her patients have sued her for negligence or malpractice.
When Icilma Cornelius went in for liposuction surgery in 2016, she went into cardiac arrest and suffered permanent brain damage. Although the 54-year-old's son is unsure if Dr. Davis-Boutte was filming during the procedure, he still found the videos disturbing.
"When I first saw those videos I was completely shocked," Cornelius' son Ojay Liburb told CBS News.
Liburb said the videos made him believe the doctor's focus was not on the patients.
"My mother's future is mainly bed rest, wheelchair sitting," Liburb told CBS.
While Davis-Boutte has settled at least four malpractice suits, including with the Cornelius family, she still contests she did nothing wrong.
Despite the dermatologist's belief that she did not break any rules, Georgia's composite medical board disagreed suspended Davis-Boutte's medical license immediately after her story was reported by WSB-TV.
The Georgia board called Dr. Davis-Boutte a "threat to public safety" and said she "failed to conform to the minimal standards" in the cases of seven patients, including Icilma Cornelius.
Susan Witt, a medical malpractice lawyer who is one of Dr. Davis-Boutte's patients, said at least 100 people have come forward to complain about the dermatologist, reported Fox News.