Rock & Roll Hall Of Fame: Jay-Z, LL Cool J and Tina Turner To Be Inducted
The ceremony will take place on Oct. 30 in Cleveland, Ohio.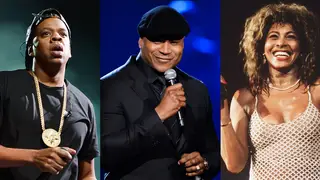 Among the 2021 class of inductees into the Rock & Roll Hall of Fame is hip-hop artist Jay-Z.
According to Entertainment Weekly, the rapper will join fellow rapper LL Cool J and the legendary singer Tina Turner.  
After being inducted in the 1991 Rock & Roll Hall Of Fame class with her ex-husband Ike Turner, Tina's latest induction will come from the Performers category in a single class. This will be the first time three female artists are inducted into that category; other inductees include singer-songwriter Carole King and the group the Go-Go's.   
L.L. Cool J's induction also comes from under the Musical Excellence Award along with the late 60s keyboardist and singer Billy Preston. 
"You can do anything you put your mind to. Thank you.✊🏾🌹🙏🏾♥️" LL Cool Jay captioned his IG post following the news.
"This diverse class of talented Inductees reflects the Rock Hall's ongoing commitment to honor artists whose music created the sound of youth culture," said John Sykes, Chairman of the Rock & Roll Hall of Fame Foundation, in an official statement. "It will make for an unforgettable live celebration of music in October at this year's Induction Ceremony in Cleveland."
The 36th annual Rock & Roll Hall of Fame Induction Ceremony will occur on Oct. 30, 2021, in Cleveland, Ohio.