Supermodel Beverly Johnson Says Bill Cosby Drugged Her
Former model is latest to come forth with allegations.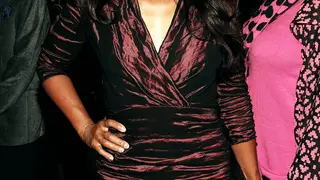 Beverly Johnson is the latest — and arguably the most high-profile — woman to come forth with claims of misconduct against Bill Cosby. The former supermodel, who was the first Black woman to land the cover of Vogue, has penned an essay for Vanity Fair in which she details an interaction with Cosby in the mid-1980s during which he drugged her.
In her essay, Johnson says she met Cosby when he invited her to play a small role on The Cosby Show. Seeming to take an interest in her acting career, Cosby then invited Johnson to his home in New York City, where he allegedly slipped a drug in her cappuccino. 
Explains Johnson, "I was a top model during the '70s, a period when drugs flowed at parties and photo shoots like bottled water at a health spa. I'd had my fun and experimented with my fair share of mood enhancers. I knew by the second sip of the drink Cosby had given me that I'd been drugged — and drugged good."
She says when Cosby put his hands on her waist, she knew where the evening was headed. As I felt my body go completely limp, my brain switched into automatic-survival mode. That meant making sure Cosby understood that I knew exactly what was happening at that very moment. 'You are a motherf**ker aren't you?'"
Presumably scared off by her cohesion, Johnson says Cosby then dragged her down the stairs and threw her in a cab. She says she even attempted to confront Cosby about his behavior days later by calling his home, but his wife, Camille Cosby, answered instead. Johnson said she made no further attempts to confront the sitcom star.
As for why she waited until now to come forward with her story, she says, "...for a long time I thought it was something that only happened to me, and that I was somehow responsible. So I kept my secret to myself, believing this truth needed to remain in the darkness. But the last four weeks have changed everything, as so many women have shared similar stories, of which the press have belatedly taken heed."
To date, over twenty women have publicly accused Cosby of sexual misconduct, many of them claiming they were drugged and raped by the comedy icon. Neither Cosby nor his representatives or legal team have commented on these latest accusations by Johnson.

Click here to win a trip to the Super Bowl Gospel Celebration in Phoenix, AZ, plus 4 tickets to the Big Game. 
BET.com is your #1 source for Black celebrity news, photos, exclusive videos and all the latest in the world of hip hop and R&B music.
Click here to subscribe to our newsletter.

(Photo: Cindy Ord/Getty Images for Mercedes-Benz Fashion Week)