NeNe Leakes Remembers Late Husband Gregg's Birthday In Sweet Birthday Tribute
He would have been 68 years old.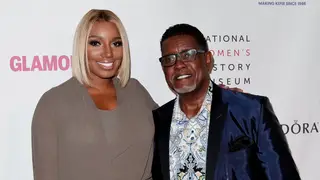 NeNe Leakes is honoring her late husband, Gregg Leakes.
On Wednesday (August 16), NeNe shared a touching tribute with her followers on Instagram to mark what would have been Gregg's 68th trip around the sun, as reported by PEOPLE. But for the widow, this is Gregg's latest trip around heaven.
"Happy Heavenly Birthday Gregg!" The Real Housewives of Atlanta alum wrote in the caption. The post was paired with a photo of Gregg having his favorite meal. "Today you would be out eating your favorite foods! French Fries and chicken tenders 😂 I love you for that."
As for NeNe, it was easy-going moments like the aforementioned that she would cherish and hold dear to her heart about Gregg, who often appeared on the reality show alongside her.
"It was the simple things about you that got me every time! I love you and miss you more than words can say! My Man My Man My Mannnn❤️," she continued.
The last photo she shared in that post featured a sweet moment of the couple as they embraced each other with a kiss.
NeNe also took to her Instagram Story, with snaps of her during a sentimental outing, to show how she keeps his memory alive.
In the photos, she is spotted visiting the mausoleum where Gregg was laid to rest and touching his marker inscribed with "Forever In our hearts. Gregory Leon Leakes. August 16, 1954-September 2, 2021."
At 66, Gregg lost his battle with colon cancer, and he died "peacefully" at home surrounded by family and friends. In 2018, he was diagnosed with Stage III colon cancer.
The couple tied the knot in 1997, but divorced in 2011. Two years later, they reunited and decided to walk down the aisle for a second time together in June 2013. Together, they share one son, Brentt Leakes, 22.