GOP Support for Florida's Byron Donalds Leads House to Historic 10th Vote For Speaker
The Black Republican is acting as a "spoiler" vote from GOP members who won't support Kevin McCarthy as Speaker of the House.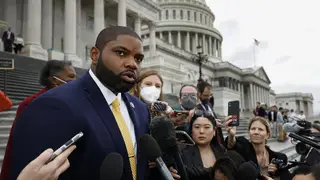 After nine rounds of voting to elect the Speaker of the House, Rep. Kevin McCarthy still hasn't cobbled together enough votes to assume that position. 218 is the threshold to allow a House member to take the gavel, but McCarthy has failed each time.
A group of Republican members say they will "never" vote for McCarthy, and they're slowly adding to their ranks.  The original 19 have added two to their ranks, and with Democratic member Hakeem Jeffries standing at 212 votes as of Thursday afternoon (Jan. 5), the GOP members who won't vote for McCarthy are braced to draw out the uncomfortable display that illustrates how fractured is the Republican membership. All the while, none of the House can be sworn in until first, a leader is elected.
One member whose name has been floated- and voted for- during this historic kerfuffle is Florida Republican Byron Donalds. The 44-year-old, now entering his sophomore term, is one of two Black GOP members serving in the House. Originally from Brooklyn, Donalds doesn't hide the fact that he was arrested in his youth for a marijuana distribution charge for which ​he completed a diversion program and was able to have dismissed. He says he straightened up, hit the books and graduated from Florida State University​.
Donalds came to some national attention in 2021 when citing his ultra-conservative views, the Congressional Black Caucus denied his membership.  The turn off to the CBC was that he was one of the 147 ​Congressional ​Republicans​ ​who ​voted to overturn the 2020 presidential election results. A staunch Trump supporter, Donalds has also ​supported voter suppression efforts  that voting rights groups have demonstrated target and disenfranchise Black voters overwhelmingly. Donalds holds a 100% rating from the The American Conservative Union for his voting record​ for his opinions on abortion, ​immigration, labor and voter ID requirements​.
The reality is that the speaker situation is such a deviation from normal Congressional procedure that predicting what will happen is more guesswork than some pundits might admit. ​While at this point, Donalds may not​ be seriously expected to take the Speaker's gavel, the GOP impasse means that various scenarios are being floated. Despite the unlikelihood, some suggest that Democrat Jeffries will sooner pick up six votes, or that enough GOP support will be shifted to Donalds before the Californian McCarthy can gather 218 votes to clench the post.
In the meantime, CBC member, Rep. Cori Bush of Missouri, let it be known that the support for Donalds, in her opinion, isn't to be celebrated. She shared her feelings on Twitter.
But Donalds responded in kind.
Currently, the House is holding a 10th vote. And until a speaker is sworn in, no official House business can begin.