Tupac Shakur's Sister Pays Tribute to Later Rapper During Hollywood Walk of Fame Ceremony
The honor comes 26 years after the rapper's death.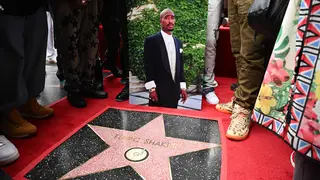 Nearly three decades after his passing, rapper, poet, and actor Tupac Amaru Shakur was honored with a Hollywood Walk of Fame star.
The late West Coast emcee's sister, Sekyiwa "Set" Shakur, was there on Wednesday, June 7, as the "All Eyez on Me" rapper posthumously received the honor. The 47-year-old, who also serves as the president of the Tupac Amaru Shakur Foundation, delivered an impassioned speech on her brother's behalf.
Speaking from the Walk of Fame podium, Sekyiwa expressed how proud she was of the prolific entertainer and how "it fills my heart with honor to stand here today representing the Shakur family." Her emotions appeared to take over as she reflected on her childhood growing up with the star and how "Tupac knew deep down that he was always meant for something great, and as his little sister, I had the privilege to watch that greatness unfold."
She continued, "From the first time he stepped foot on the stage of the Apollo Theater at 13 years old, before anyone recognized his name, he knew he had the dream to have a star here on the Walk of Fame."
Sekyiwa was also joined by filmmaker Allen Hughes who directed the FX docuseries Dear Mama: The Saga of Afeni and Tupac Shakur,  which shed light on the bond between Tupac and his mother, Afeni Shakur, and the profound impact she had on her son despite her efforts to downplay it. Hughes and writer Jamal Joseph also spoke on Tupac's legacy and influence.
The celebration of Tupac's life continues after city council members voted unanimously to rename a stretch of a street in Oakland in his honor.