The Redemption Of Hurricane Chris
From teenage rap sensation to prison, Hurricane Chris shares his journey of redemption, triumph, and the unbreakable bonds that carried him through the storm.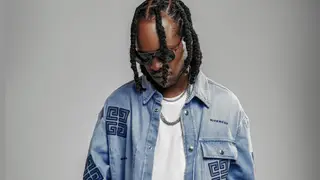 In 2007, the hip-hop landscape was forever changed with the arrival of Christopher Jerrod Dooley Jr., more famously known as Hurricane Chris. The Shreveport, Louisiana native took the rap game by storm at 16 with his debut single  "A Bay Bay." Produced by Phunk Dawg, the song peaked at number 7 on the US Billboard Hot 100 and helped usher in the ring-tone and viral dance era in Hip Hop.
Chris would release several albums, mixtapes, and more hit songs, including the iconic "Halle Berry." But everything came to a halt on the night of June 19, 2020, when he was arrested for second-degree murder in Shreveport after he reportedly shot and killed a man at a local gas station. Chris maintains that the shooting was in self-defense.
Following almost three years of legal battles, he was acquitted of all charges and is now looking to share his powerful story of redemption and reclaim his spot in rap music.
BET.com caught up with Chris and spoke about experiencing immediate success as a teenager, and how he almost lost his freedom on a night he will never forget.
'Ah Bay Bay' Was a Massive Hit That Surprised Chris and Put Shreveport on the Map
Reflecting on his meteoric rise as a rapper, Chris shared that he had no idea he would launch into superstardom almost overnight. After recording the song in jest, "Ah Bay Bay" became a local hit and eventually an international smash.
"I didn't think it was going to take off like that. I made "A Bay Bay" when I was 16 years old. I snuck in the club at night and got sloppy drunk [laughs]," Chis said. "After that, I went to my homeboy's house and used his studio because I was too turned up and didn't want to go home. It was the first thing that I did. I didn't even take it that seriously. It was magic."
"It seemed like that way to me. When I got my deal, I was so young that I didn't know what was happening," Chris continued. "My mama had to sign my deal because I was only 16 years old. I remember waking up and watching Rocsi and Terrence J. on 106 and Park debut the record made me feel like I made it. The song led to me getting a record deal because I was independent doing shows on the road. I was moving around throughout Louisiana and other states like Texas doing shows for 1000-1500 people. When it got the deal, everything was magnified."
While No Limit and Cash Money built movements as representatives from the city of New Orleans, Chris holds the distinction of being the first rapper from Shreveport to break into the mainstream.
"It was amazing to put Shreveport on the map and to be the first person from the city to make it big as a rapper. I was able to kick down barriers that had been up for so long to show people that anything was possible. So, I feel like I played a role in showing my people that we can accomplish this," Chris said.
Chris Has Never Met Halle Berry
Another of Chris' signature hits is "Halle Berry (She's Fine)," the lead single from his second studio album, Unleashed. Named after Academy-Award-winning actress and producer, amazingly, Chris has never met Berry even though she was a big fan of the song.
"I never got to meet Halle Berry and I'm still mad about it now [Laugh]. I was actually in the studio with Lil Wayne and the people that were working the front desk were watching Ellen on the computer and l saw her doing the dance on the show," Chris remembered. "I had a lot of big records that are still a part of hip-hop culture. These are timeless records that are a part of hip-hop history. "Ah Bay Bay," "Halle Berry," "Hand Clap," and "Players Rock" will always be a part of hip-hop forever."
How Chris' Legal Troubles Almost Derailed His Career
After being a trailblazer of Southern hip-hop and enjoying years of success, Chris' career was in jeopardy when he faced second-degree murder charges. He recalls losing numerous opportunities, such as acting jobs, as he fought for his freedom and sought to clear his name. Because of his case, he said he missed out on auditioning for various shows, including Starz's hit drama BMF.
"I was going to audition for many of the big shows that are out right now. I was lined up to audition for a lot of these shows. When I got arrested, it threw a monkey wrench into many of my plans. I lost my deal with the acting agency and had to drop out of the acting school I had signed up with due to the arrest," he said.
Also, Chris accused the Shreveport Police Department of discrimination during the incident because he was a rapper. He also plans to file a lawsuit against the department for damages and lost wages because of the case.
"When I was inside the vehicle after I was arrested, I actually heard one of the officers saying I got Hurricane Chris in my car. And speaking about how excited he was about arresting his first rapper. That let me know that I had a bad deal from the jump. When I got downtown to be questioned by a detective he said, 'You had a song on the radio, right?' So I realized that it was other stuff on their mind," he said.
Chris' Inner Circle Was The Support System He Leaned On During His Ordeal
Chris credits his faith in God, the support of his family, and his legal team that helped him navigate through the most difficult time of his life. Because of them, he could be resilient even though the odds against him seemed impossible.
"Knowing I was innocent, I had to have faith that I would prevail. But there are a lot of people who didn't commit crimes who are still punished. It wasn't a breeze," Chris explained. "I wouldn't say I was at ease throughout the situation because it was very stressful. I just had good people around me who did their best to help me get through it.
"I felt like an 18 wheeler was lifted off my back when I was acquitted. It was like a truck on my back for like three years and when the clerk read the verdict, I can't even describe the feeling. I told myself I was gonna stand up and be prideful and have this sense of "I told you so."  But I didn't. I just wanted to give all the glory to God and I realized that it wasn't me who was triumphant alone, "Chris went on. "It was the strength of God and the people around me and I discovered how real God is. If I didn't believe then, I have no choice but to believe after surviving all that."
With his legal troubles behind him, Chris can now focus on growing as an artist and reestablishing his brand as a rapper and a fledgling actor.
"I'm talking to the same agency looking to show my acting skills. I'm getting back to school because I was attending acting class every day. But the first thing I'm working on is getting my project ready," Chris said. "So I got a mixtape about the drop called Hurricane Seasons Volume 2 which will be out at the end of this September. Also, I got an album coming out called Bald Head Baby because that's what my grandmother used to call me,rest in peace to her. I got some heat for the streets. I just shot like seven videos in California so I got a lot of music that I will be dropping real soon."