Sarah Palin Calls Colin Kaepernick's $50K Donation to Meals on Wheels a 'Political Stunt'
Taking after Trump, the former Alaska governor added "and he wonders why he can't find a job."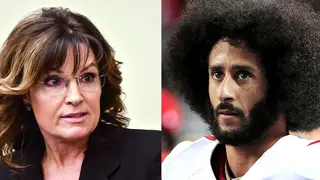 No surprise that Sarah Palin is following Donald Trump's lead.
Palin attacked Kaepernick's recent $50,000 donation to Meals on Wheels on her website, running a post entitled, "SERIOUSLY? Colin Kaepernick Just Pulled ANOTHER Political Stunt."
Why in the world would she call a generous donation to Meals on Wheels a "political stunt?" Well, she believes that recent reports about Trump including the program in his budget cuts don't carry any merit, so she thinks that Kaepernick only donated to the organization to make some headlines.
Palin herself posted the article from her website onto her Facebook account, commenting: "And he wonders why he can't find a job."
We can't help but wonder if Palin is aware of Kaepernick's laundry list of charitable donations.
Just last week, Kaepernick spread awareness via his Instagram account about the historic famine taking place in Somalia and joined forces with the "Turkish Airlines Help Somalia" initiative, which has delivered water, food and aid to help the six-million-plus people affected.
Any mentions of that, Mrs. Palin? Probably not.
BET Sports News — Get the latest news and information about African-Americans in sports, including weekly recaps, celebrity news and photos of your favorite Black athletes.