Ludacris' Longtime Manager Chaka Zulu Shot Sunday Night in Atlanta
The legendary music executive was among three men shot following an argument—one did not survive.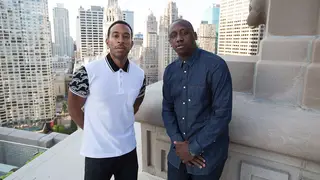 Music executive Chaka Zulu was among three men shot Sunday night in the Buckhead section of Atlanta. The longtime manager of rapper Ludacris is also the Co-CEO of Disturbing Tha Peace Records.
According to local Atlanta station WXIA, Zulu and two other men were shot at a location off Peachtree Road around 11:35pm. All three were hit and transported to a local hospital—one did not survive.
The news site did not identify the other two men, and official reports have not identified which one has died.
According to the report, homicide investigators responded to the scene and an officer told WXIA that the shooting stemmed from an argument in a parking lot. While police have not identified a suspect, they are reviewing security footage as part of the investigation.
While there has not been an official update on Zulu's condition—an inside source who wishes to remain anonymous told BET exclusively, "He made it through one surgery and is about to have another. He's fighting. Chaka is strong."
The legendary executive has represented a number of artists and is a fixture in the Atlanta music scene. He recently participated in a Juneteenth event for The Home Depot Backyard. The bio on that page lists him as most recently serving as Head of Artist & Talent for Spotify. Previously, he served VP of Sports and Entertainment Marketing at Monster, the company formerly behind Beats by Dre headphones, an executive producer on a BET docs-series and Radio Promotions for Sony Music/Columbia Records and Universal Music Group/Island Def Jam.
Chaka Zulu has been instrumental in the careers of Jeezy, Big K.R.I.T., Iggy Azalea, DJ Drama and more.
This is a developing story.