Meek Mill And Michael Rapaport Broke Out Into A Full-Fledged Twitter War, And Fans Are Grabbing The Popcorn
"Who gave you authorization to be speaking on us?"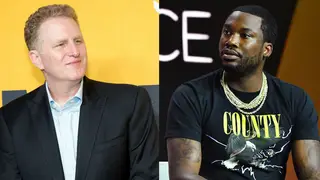 After stepping out of Hollywood's silver screen circle and crashing into the neighboring music community for some choice words fired at Ariana Grande, comedy actor Michael Rapaport may have wandered a bit too far from his territory with shots aimed this time at Philly emcee Meek Mill.  
The 48-year-old apparently wasn't a fan of Meek's 2019 NBA All-Star Game opening performance, where the MMG heavyweight slammed the full court stage at North Carolina's Spectrum Theater with fan-favorites of his Championships opus. Contrary to the popular hip-hop opinion, Rapaport's scathing review of the performance made its mark on Twitter as he unleashed harsh 280-characters against Meek. Rapaport's unwarranted Twitter attack boldly deemed Meek a "trash rapper," reignited his Drake defeat in the now-buried Drizzy versus Meek Milly rap showdown of 2016 and even knocked him off the list of Philly's top 20 rap talents. It didn't take long for the chatter to reach the timeline of Meek himself. And just like that, he shut down the Bamboozled actor with three simple guidelines and a photo that blew the lid off Rapaport's supposed rap critiques once and for all. 
In a string of tweets, Rapaport fired up the Twitter fingers after Meek's NBA All-Star performance…

Meek replied with some guidelines to the culture of his own for Rapaport to follow

And since they're on the topic of Meek's performance...

He had just one more blow after digging up an NBA moment Rapaport's sure to recall.

And fans are following Meek's suit on Mr. Rapaport: