Amber Rose Reveals She Wants To Be Single For The Rest Of Her Life: 'I Don't Want Anyone Around My Kids'
The model/actress isn't feeling the current dating pool.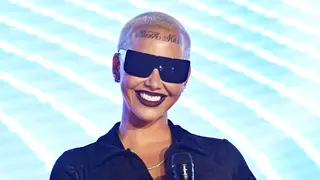 Amber Rose may be single, but she has no intention to mingle. The model and actress revealed during a recent interview on the Sofia with an F podcast that she has no plans of getting into a romantic relationship.
"It's worse than ever," she said about the current dating pool. "They're pretty disgusting out here. They're f***king gross. Like, I wanna be single for the rest of my life."
She continued, "I don't want to share my house or my life with anyone. I don't want anyone around my kids. I don't want to have sex ... It's so gross. I don't want it."
The 39-year-old star went on to share that she's perfectly content with being by herself, especially since most of the good ones are already married. "I'm fine with being with myself…I'm very happy to not share my bed with anyone," she concluded.
FYI: Amber Rose shares 9-year-old son Sebastian with ex Wiz Khalifa and 3-year-old son Slash with ex Alexander "A.E." Edwards.
What do you think BET fam? Are you unimpressed by the current dating pool? Drop your thoughts in the comments.