Jada Pinkett-Smith Finally Responds to Chris Rock's Oscars Diss
How does she feel about being compared to Rihanna's panties?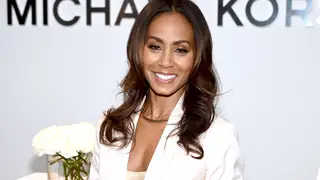 Chris Rock's comments about Jada Pinkett Smith's Oscars boycott seems to have all of Hollywood taking sides, with some finding the joke hilarious and others, including Jada's husband, Will Smith, and close friend Tyrese not amused. Finally, the actress herself decided to weigh in on Rock's remarks.
Asked by photographers for celebrity gossip site X17 how she feels about being the butt of Rock's joke, Jada responded, "It comes with the territory, sweetheart." She continued, "Hey look, it comes with the territory but we gotta keep it moving. We gotta keep it moving. We gotta keep it moving. There's a lot of stuff we gotta handle, a lot of stuff in our world right now. We gotta keep it moving."
Who can forget the Academy Awards host's eviscerating line, "Jada boycotting the Oscars is like me boycotting Rihanna's panties. I wasn't invited!" A major burn, to be sure, but we think Jada handled it with her typical class and grace.
Support their causes or not, gotta admit that the Smiths know how to deal with Hollywood. Watch Will humbly talking about his craft, despite being snubbed for a Best Actor nomination, in our exclusive interview below: 
BET.com is your No. 1 source for Black celebrity news, photos, exclusive videos and all the latest in the world of hip hop and R&B music.