What We Learned From Alicia Keys On Jada Pinkett Smith's Red Table Talk
Our top five takeaways from the interview - plus her unforgettable performance on the show.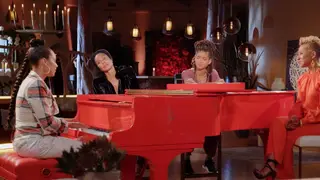 Alicia Keys already had social media (and the ladies of the Red Table Talk) ready to bawl their eyes out with a preview of the newest episode. The Red Table Talk was transformed into the Red Piano Talk on Monday (Oct. 14) as Jada Pinkett Smith was joined by her co-hosts, daughter Willow Smith, and her mother, Adrienne Banfield-Jones, alongside the Grammy winner. In one of her more intimate moments, Keys opened up about the personal struggles and insecurities she's faced throughout her career after she was thrust into the spotlight at the age of 18. 
There was a lot of laughter, tears, impromptu serenades from Alicia, and all-too-real moments during the 28-minute conversation. Read our top five takeaways from the raw and candid conversation below.
Alicia Keys On Still Struggling With Self-Worth

Although Alicia is in a much better spot emotionally now, she made it clear that wasn't always the case. Tracing back to the start of her career, Alicia said that she often struggled with her self-worth while grappling with the pressures of fame. While she's touched that women have found her music empowering, Keys explained that her songs often came from "times" of self-doubt and music was her medicine.

"At the time when I first started, I was so young. I was 14. When everything exploded, I was 18. I was a baby [and] I didn't know what I was doing. [The label] had such strong ideas of what they wanted for me. There was a certain sense of a  desire for me to be inaccessible," Alicia said.

In hindsight, the mother of two recognizes her label and team at the time might have went with that image for "protection" but it led to her struggling to deal with her emotions after keeping them bottled up for so long as she struggled "to hang on and make sense of everything and not fall on [her] face."

It was an uphill battle for her to stop feeling like she had to play the peacekeeper, which is still something she admits she struggles with.

Alicia Keys On Finding The Strength To Stand On Her Own

She recounted struggling with "finding the strength to let go of people" to find her own power.

"I felt so dependent on them [and] in my mind, I thought that without them I wouldn't be me. That took a long time [for me] to come to terms with. People definitely assist you in your journey, for sure. But they don't make you. Nobody makes you. I make me."  

She continued: "There is so much tenderness [and so much empathy] that I am learning to have with myself."

Alicia Keys On Finding Inner Peace

When asked what's the best piece of life advice she's ever heard, the 38-year-old recalled one of her final moments with her grandmother that helped her quiet the inner turmoil within herself.

"When she was dying, she lived with me and it was amazing because all my life she had taken care of me and she was so elegant and strong and fierce and sincere. I knew I wasn't going to have her much longer and I started thinking about mortality a lot," Keys said, explaining that the tender moment inspired her hit single "Like You'll Never See Me Again." 

"When I wrote this song, a lot of people thought it was about a love of a boyfriend or a man but this was really about my love for her. She taught me to cherish the moments and she also taught me that if things weren't happening the way you thought they were supposed to happen, that was OK."

Alicia Keys On Misconceptions

"Probably that I'm very happy or that I'm very strong. My favorite one [is] that people think I don't curse. I'm like, 'What the f**k are you talking about? Why would make you think I don't curse!" On a more sincere note, R&B soulstress added that she never wants to be put on a pedestal. 

"I don't want to be on nobody's pedestal. I'm good. I can just be me...my flawed, beautiful self," Alicia said, prompting Adrienne to ask if that's where Keys' decision to cut back on wearing makeup came from.

"I had a paper where I wrote down all the things that pissed me off. I'm pissed off that if my son wants to paint his nails, it's a big freaking deal. I'm pissed off that if I'm not so put together and I walk outside, someone says to me 'Are you tired? Are you OK?' I'm not tired. This is my face!"

She continued:  "But I didn't know my own face. When I took off all the stuff and I looked into the mirror, I didn't know that person. I look back today at pictures, like 'Geez, Alicia, did it really have to be that?' It was so much. I had done that because I was told to do that."

Alicia Keys On How Marriage And Motherhood Reshaped Her Outlook On Life

"It's always been so easy for us," she said of her marriage to Swizz. The two have been married since 2010 and have two kids together.

"My husband is such a free spirit. Swizz is like in the sky. The way he thinks, he's just in the sky and everything's up there. We get along really well because we balance each other. He helps me dream. I never dreamed how I did before I met him. I've even been jealous of him before like, 'You got bigger dreams than me.'" 

Jada wholeheartedly agreed, sharing that her husband, Will Smith, also has "bigger dreams" for their family "than we can even imagine for ourselves."

On the topic of motherhood, Alicia said that their children also helped her appreciate "magical" moments instead of trying to force things to happen. 

"They've taught me to appreciate the vibe, appreciate the magic and to know when it's not there," she explained.

Watch the conversation in full below where Alicia Keys talks what her secret passion is outside of music, the number-one artist she would love to collaborate with, and her unforgettable performance of "Girl on Fire" with the ladies of the Red Table Talk.