See The Custom $1,500 Jacket This Designer Made For Colin Kaepernick
Woke fashion.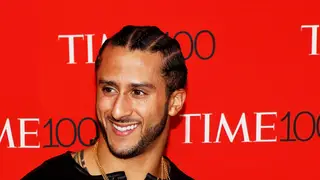 Instead of doing a traditional interview for GQ, GQ's Citizen of the Year, Colin Kaepernick, opted to do an editorial while rocking custom Fear of God pieces by Jerry Lorenzo. One piece stood out the most and received a lot of buzz on the internet: Kaep's custom Fear of God coach's jacket, which celebrates Kaepernick's last name. 
Jerry was grateful to be considered for Colin's editorial and posted a message on his IG thanking GQ as well as telling the athlete he stands with him and is humbled by this moment.  
The baseball-inspired jacket comes with a $1,495 price tag, and, as of now, you can't get your name printed on it… yet. But it's still a good look!