Mother Frantically Reports 13-Year-Old Son Missing Not Knowing He Was Working Hard To Buy Her A Gift For Christmas
Officers were so touched, they took Diauris' plan a step further.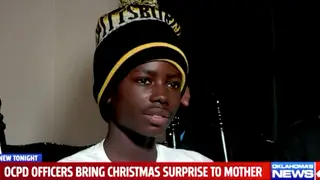 After relocating her family to an Oklahoma City apartment, a mother realized she used the entirety of her Christmas money to pay for the move-in. Although Sophia Reed made the ultimate sacrifice, her family was determined to give her an amazing holiday. What ended up happening was nothing short of an unforgettable Christmas. 
"What little Christmas money we had, you know, to pay my security deposit for here," Reed told local news station KFOR.
Last week, her 13-year-old son Diauris hatched a plan to raise money to buy his mother a gift; however, when she noticed he was missing with no notification, she panicked and called police.
"I was afraid he was going to get in trouble," Sophia's daughter, Deneisha, said about Diauris. "I was very afraid he was going to get in trouble. I just didn't want to say anything because it would blow the whole thing."
Although Sophia thought her son was missing, Diauris secretly snuck off to collect cans, trade them in for money and buy her a present.
"I just wanted to do something for my mama," Diauris told KFOR.
However, when Diauris came home, he saw officers waiting for him. He decided to use that opportunity to inform them of his plan. His idea inspired Officer Roland Russell to invite other officers to meet the family.
"There was so many knocks on my door, everybody just was knocking, just was knocking. And every time I opened my door, it was the police, the police," Sophia told KFOR.
Not only did the officers show up in full spirits, they also raised $800 and bought the family Christmas and housewarming gifts.
"Most of the time when I see the police, it's like, bad stuff," Diauris told KFOR. "Up here I guess it's changed. Good."
"They caught us at the right time and we are so grateful," Sophia added.
After being treated to such a warm welcoming by the police, Sophia and the rest of her family are now looking for work and hope they can offer the same blessings to someone next year.