Cardi B Says Community Service Put Veteran's Issues On Her Radar
The Bronx rapper is volunteering at a facility for military veterans.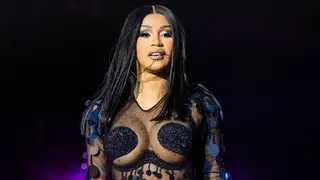 Cardi B's community service has begun, and the Bronx rapper has shared with her fans the impact the experience volunteering at a facility for military veterans has had on her.
Heading to her Instagram Live, Cardi explained a recap of what she has learned during her community service on Thursday (Jan. 19). The "WAP" artist was mandated to complete 15 days of community service.
"I have learned so much things these past two days, and I have learned things about myself," said Cardi on Friday (Jan. 20).
"You know we all celebrate Veterans Day, and you know we always say, 'Thank you to our soldiers,' but I don't know anybody who's been to war," the Grammy-winning artist continued. "I don't know any veterans. I don't know anybody that went to Afghanistan or any type of war like the Vietnam War, the Gulf Coast War," she added.
The "Bodak Yellow" artist said she couldn't believe the reality of the hardships veterans experience after serving the country.
"It's so crazy to me how [the government] just don't give a f**k… This is what they train for, to be a ranger, to be in the Navy and they get injured, and they come back home, and they don't even know how to adjust to society, so they turn to crimes, they turn to drugs… It's just so sad that it hurts me," the 30-year-old said.
In case you missed it, Cardi is required to complete community service in connection to a 2018 club incident. Originally she was expected to complete her hours by Jan. 17, but after she appeared before a Queens judge, she was granted an extension to complete her hours until March 2023.