8 Impactful Moments From 'Black Panther: Wakanda Forever'
Ryan Coogler made sure Chadwick's Boseman's legacy lived on in the movie.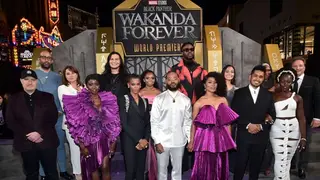 Ryan Coogler's long-awaited Black Panther: Wakanda Forever has finally arrived and while it seems like reviews are all over the place, for the most part, fans of the Black Panther comic books, self-included, are satisfied. Chadwick Boseman's untimely death gave way to a prominent storyline in the comics, which is that Shuri takes the reins and becomes the new Black Panther. The film does Boseman's tragic death and legacy justice, finding ways to pay tribute to him throughout. However, Boseman's impact and by extension the movie's impact is palpable and will continue to spark discussions and debates about what the Black Panther movie means for us. Here are eight impactful moments from the film (spoilers ahead):
The Intro

Marvel is well known for its standard flipbook intro to all of its movies. It's usually of the Marvel characters through the years but this time the sole focus was on Boseman. It was a testament to the fact that he is the forever Black Panther, and that not recasting him was the right decision.

The Acting

If anyone was concerned about whether Leticia Wright could carry the movie then this should quell that doubt. Obviously, she had the support of a great ensemble, but she stepped up and proved that she could do it. Angela Bassett also delivered a brilliant performance as Ramonda. Bassett and Wright together were unstoppable and they better be nominated for all of the awards.

The Comic Relief

Winston Duke delivered, once again, as M'Baku. His relationship with Wakanda was less contentious, but not without jokes here and there. Even in war, he provided some fun laughs. This is a character that will hopefully be developed even more as the Black Panther Series progresses.

Grief Changes Things

We find Ramonda and Shuri drowned in grief over the loss of T'Challa, when the movie begins. However, Ramonda tries to be strong for her daughter, her last living relative, because at first, Shuri is immobilized by her sadness and the fact that she couldn't save her brother. It was something she struggled to get over and because she didn't believe in the ancestral plane, there was a sense of hopelessness. But, when Ramonda is murdered by Namor, that sets off a chain of rage but also the need for action that allows Shuri to step into the mantle of Black Panther, which never would have happened without that pivotal death. Death and tragedy being the catalysts for change are very comic bookian tropes but important for this storyline to move forward.

Namor Got The Smoke

Ryan Coogler's take on Namor remixes a lot of the comic book lore into something much better. In the comics, Namor is the king of Atlantis, which is trite. In the film, Namor and his kingdom Takolan, draw from Mesoamerican influences. They speak an indigenous language inspired by ancient Mayan and Aztecs from along the Yucatan similar to Wakanda, they prefer to remain anonymous from the rest of the world to avoid the drama that comes with neo-colonization. What makes them much different from Wakanda is that they don't want any diplomacy at all. Namor just plans to fiercely protect his kingdom at all costs. That's how he was most of the time in the comics and it seems like that's how it's going to be.

Namor Could Be An Avenger

Namor is an anti-hero so you never know which side of him you might get. Sometimes he's decent, and not murdering everyone in his path, and other times, he's on a complete rampage, but all of it is self-serving as long as his kingdom is cool. The end of Black Panther: Wakanda Forever makes it clear that he can do all things. In the comic world, he has been a member of the Avengers, and X-Men. In the movie world, we end with Wakanda being alienated from the rest of the world, even from the allies they've forged over the years so it's highly likely that we will see him again, possibly working toward surprising causes.

LGBTQ Representation

The MCU has yet to tap into queer representation as much as comic books have in recent years. However, at the end of BP2, we see a quick moment where Dora Milaje Aneka (Michaela Coel) and Ayo (Florence Kasumba) kiss. It was quick, it wasn't made into a thing but it is from the comics (but in the comics it's Okoye and Ayo). The original Black Panther removed a flirty scene between Ayo and Okoye to avoid bans by conservative countries so it will be interesting to see how this moment holds up.

Representation Matters

We know that representation matters but there's still a lot more work to do. It's always good to see different cultural folklore, and different types of heroes on screen. So far, Black Panther has been the most diverse Marvel comics film, not only diversifying the superhero space but also providing more to work with when it comes to cosplayers looking for a change and children who want to wear superhero costumes that aren't just Captain America.