Janet Jackson Rounds Out the Summer with 'Peaceful and Relaxing' Vacation in Europe
The star toured Puglia, Italy, and Portugal, then partied with Christian Louboutin.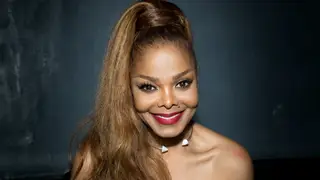 Janet Jackson is not letting the season end without making colossal summer memories.
On Wednesday (August 30), the five-time Grammy winner shared moments from her summer getaway across the pond in Europe with her 7.5 million followers on Instagram, as reported by PEOPLE. In her post, she included scenic views of the country's surroundings and fun snaps with friends.
The "Rhythm Nation" hitmaker began her Puglia, Italy recap with a photo of her on a sunny day posing like a boss in a pink tunic alongside hairstylist Chris Rios Riggio, who got the memo on the pose. Other snaps included a scenic view of cacti and red roses in bloom and a table display of vibrant red, green, and yellow peppers.
Jackson also highlighted the hotel's design, featuring its outdoor bar and scenic walkways
punctuated with greenery.
More snaps show the hotel nestled near a striking view of the ocean's blue waters.
"We rounded out our summer vacation at the breathtaking @Tenuta_Negroamaro in Puglia, Italy. The hotel grounds are so peaceful & relaxing and it's such a blessing to be able to spend quality time with my baby 🥰," the singer captioned the post.
Days before, the artist also made her rounds in Portugal while partying with luxury shoe brand creator Christian Louboutin. The event began with an outdoor feast under the night sky, culminating inside an Aztec-influenced edifice.
"Christian Louboutin knows how to throw a great party," she wrote in the caption.
While her 2001 single "All For You" blasted through the speakers during the party, Jackson hit the dance floor with the famed designer in a fun shuffle, as the room glowed in red.
The power mom also got a chance to tour the country's charming architecture, along with some shopping at a local store.
"The village of Melides in Portugal is so charming… the shops, the architecture, the people… we loved it," she added.