Lupita Nyong'o Addresses Janelle Monáe Dating Rumors
The Academy Award-winning actress coyly addressed the longstanding rumors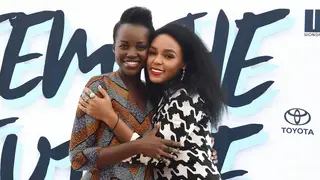 Actress Lupita Nyong'o is unbothered.
The Academy Award-winner finally addressed rumors that she and singer Janelle Monáe were romantically linked. And her response was perfect.
In an interview with Rolling Stone, for Monae's second cover article, Nyong'o said that she met the Grammy-nominated singer after her award winning performance in 12 Years a Slave—a performance that took her from an unknown actress to stardom.
This world is still extremely new to me and unbelievable. [Janelle] came up to me and just gave me the realest hug. I think we may have swayed to the music. She was just like, 'I'm so proud of you, and just thank you for being you,'" Nyong'o recalled.
When asked about the dating rumor, she said, "She has [a] magnetism that they were obviously picking up on. She is that enigmatic. People are curious about enigmatic people. I was not surprised. And I don't mind being associated with her in any capacity."
A perfect answer that wasn't an answer.
Monáe, meanwhile, is on a press tour of her own. The non-binary singer is promoting the song "Lipstick Lover" which is a track from her upcoming album, The Age of Pleasure.
In an interview last year with Jada Pinkett Smith for Red Table Talk, she said, "I'm nonbinary, so I just don't see myself as a woman, solely," Monáe explained. "I feel all of my energy. I feel like God is so much bigger than the 'he' or the 'she.' If I am from God, I am everything."
"I am everything, but I will always, always stand with women," the singer continued, expressing their continued support of those who identify as wholly feminine. "But I just see everything beyond the binary."
The singer has lately been celebrating her version of freedom baring her breasts in the video for "Lipstick Lover" that nearly broke the internet.
About the visual, she told Rolling Stone, "I'm much happier when my titties are out and I can run around free," says Janelle, who says her pronouns are she/her, they/them, and "free-ass motherfu**er."
The Age of Pleasure is due out on June 9.