Blessed!: Keyshia Ka'oir Lovingly Caresses Her Growing Baby Bump While Posing Next To The Family's Gigantic Christmas Tree
Plus, see all the other times the Wopster's styled in their best fashions.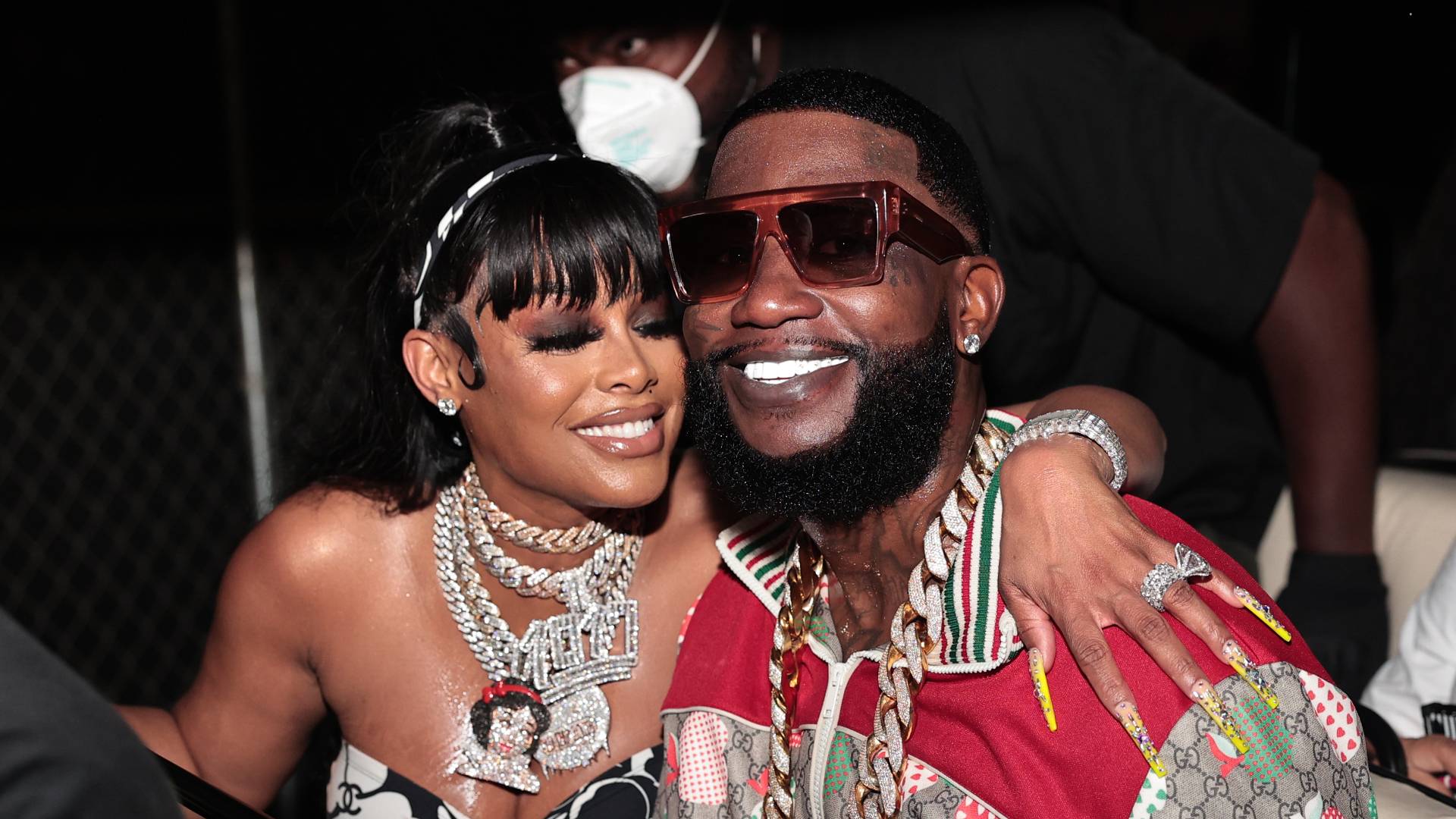 Gucci Mane and Keyshia Ka'Oir proved to us more than once that they are one of the industry's best-dressed couple. Aside from regular flexes on Instagram, their ride-or-die love for one another is a bond that proves their relationship is more than just a fairy tale. 
Of course, we can't keep our eyes off of Keyshia's curvaceous figure and Gucci's ripped abs, but their blinged out diamonds, exotic cars, and love for the finer things in life made us adore them even more! And let's be real, this couple's style is seriously unmatched. We're officially changing their name from the Wobsterz to the Dripsterz.
Take a look at all the times the "Dripsterz" have slayed the game with their looks.
Keyshia Ka'oir Caresses Her Growing Baby Bump While Posing Next To The Family's Gigantic Christmas Tree!

Keyshia Ka'oir Shows Off Her Growing Baby Bump In A New Instagram Photo!

Keyshia Ka'oir Shows Off Her Growing Baby Bump In A Form-Fitted Red Catsuit!

Gucci Mane Surprises Keyshia With Custom Diamond Earrings Hidden Inside Of Her Birkin Bag!

Keyshia Ka'Oir And Gucci Mane Celebrate Their 5-Year Wedding Anniversary With A Family Trip To Jamaica!

Gucci Mane And Keyshia Ka'oir Share A Romantic Moment While Sitting Courtside!

Gucci Mane buys Keyshia Ka'Oir a 100-carat diamond necklace for Valentine's Day.

Baby Ice is officially on the move! Take a look at the 11-month-old cutie walking with his dad in this new Instagram video.

Keyshia Ka'Oir is back on Instagram and serving looks! She is rocking a sheer Versace top and matching heels while carrying her $50K Birkin bag. Talk about stylish!

Keyshia Ka'Oir pours her perfect curves into a black leather mini dress. Sis is looking good!

See Keyshia Ka'Oir's Secret To Getting A Snatched Waistline!

Baby Ice is already 8-months-old! Swipe to see the cutie's "first selfie."

Keyshia Ka'oir snaps a photo rocking a black catsuit, a $2,500 Bottega Veneta corset, and matching boots before heading to the 2021 NBA Finals.

Keyshia Ka'oir throws her mom an elaborate 61st birthday party! See photos from the event, including a lovely portrait with the entire family.

Keyshia Ka'oir rocks a himalayan croc birkin bag valued at $400K. Talk about styling on 'em!

Aww, baby ice is too cute in his Gucci outfit. This infant has major style already!

Aww, Keyshia Ka'Oir and Gucci Mane's baby boy is adorable! Baby Ice Davis is not only on the cover of his dads album but is also the executive producer on the project. Talk about boss baby!

Gucci stuns in the latest Gucci collection while Keyshia is sitting pretty in a cut-out one piece. We are loving their looks!

Keyshia Ka'Oir Stuns in A pink mini latex dress with a whole lot of bling to celebrate Gucci Mane's Birthday. She Looks gorgeous!

Keyshia Ka'oir Gives Fans A Glimpse Inside Baby Ice's Extravagant Nursery—Including His Designer Wardrobe!

Keyshia Ka'Oir Shares Photos Of Baby Boy Ice. She even had the cutest custom diamond chain made for him. This baby is a month old, and is already dripping in ice!

Birthday Girl! Keyshia Ka'Oir shows off her snapback body just two weeks after giving birth to baby Ice. She is slaying in this mini Louis Vuitton dress.

Gucci Mane Gifts Keyshia Ka'Oir $1 Million Dollars As A Push Present! Talk about Rich!

Keyshia Gifted Gucci Mane An Iced Out Cuban Chain That says 'Ice daddy' to honor their newborn son.

Mrs. Davis looks so fresh Rocking diamonds in her hair and a gucci sweatsuit for her daughter, Dior's party.

Gucci Mane Stunted in A Gucci Look For his Verzuz Battle against Jeezy.

Pretty In Pink! Keyshia is showing off her growing baby bump and she is glowing!

Stuntin' Like DADDY

Lil Guwop on the way!

Keyshia Ka'oir reveals she cut and styled her signature mohawk that caught Gucci Mane's attention!

Keyshia Ka'Oir is enjoying her pregnancy as she poses in a beautiful white, sheer cut-out gown under a coconut tree in her backyard.

Keyshia Ka'oir Rocks A Floor-Length Valentino Coat and brand new neon green wig for Gucci Mane's first annual "WoptoberFest."

Mrs. Davis and her growing belly is gorgeous bumping around in a sheer pink dress for date night.

Keyshia Ka'Oir Walks Into Her Pool Wearing A Black Dress And A Neck Full Of Diamonds While Gucci's song play's in the background.

Nothing says "I love you" like a new diamond necklace!

It's our anniversary!

Yacht Life!

Gucci Mane Celebrated His 40th Birthday with a sophisticated dinner. Take note to how he stylishly Coordinated With His Wife, Keyshia Ka'oir. A mood!

Dressed by Her Hubby for the Bronner Bros Convention, Keyshia Stunned In A Floral Two-piece Skirt set with a $8k pink Hermes Birkin bag, matching pink hair, and lots of bling.

Mint Green and Royal Blue floor-length furs while sitting courtside. Keyshia pulled the look together with matching hair and a $10k Hermes Birkin bag.

2020 Grammy's Drip

Gucci Down To The Socks

Iced Out Santa

Yacht Life Forever!

Anniversary Love

Milan Moments

Dreaming Of A White, Wopster Christmas

Wedded Bliss