Watch the Emotional Trailer for Holler If You Hear Me: Black and Gay in the Church
BET.com's Clay Cane created and produced a groundbreaking doc about homophobia in the Black church.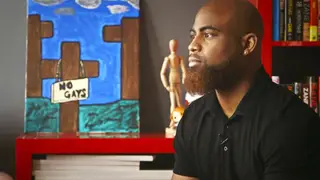 With marriage equality, LGBT Pride and the "Transgender Tipping Point," there has been progress for the LGBT community. But some religious institutions sadly fall far behind when it comes to accepting and embracing lesbian, gay, bisexual and transgender folks. For the first time on film, BET.com and journalist Clay Cane explore homophobia in the Black church with the groundbreaking documentary Holler If You Hear Me: Black and Gay in the Church.
Created and produced by Cane, the film puts the narrative in the hands of Black LGBT people who are torn between their faith and the way they are treated by their church, the stories are varied, passionate and inspiring. Cane traveled to Atlanta, Georgia, where church and LGBT culture cross paths like nowhere else, to dive into one of the most taboo topics in the Black community. With extraordinary access and without judgment, Cane and BET.com tackle this controversial but important issue through the journeys of those who are living it everyday and whose stories prove we all deserve to be heard and loved.  
Cane, BET.com's Entertainment Editor, has written about and provided extensive commentary on homophobia in the Black church for years. He wrote the essay "Religious Zombies" in Keith Boykin's award-winning anthology For Colored Boys and has been called to discuss the topic on a variety of media outlets, from The Advocate to HuffPost Live.  
Watch the emotional trailer for Holler If You Hear Me: Black and Gay In the Church, below, which is coming soon. In addition follow the film on social media here: @HollerBET on Twitter, @BETHollerIfYouHearMe on Facebook and @BETHollerIfYouHearMe on Instagram.