Black Ink Mess! Dutchess Reveals the Shocking Reason She Dumped Ceaser
Plus, she spills some major tea about her engagement ring.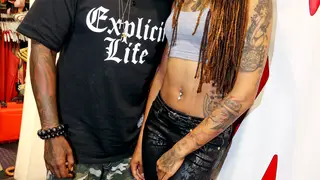 Now that everyone knows that former Black Ink Crew couple Dutchess and Ceaser are broken up, folks are trying to figure out what the real reason behind the split is.
It seems as the reason's been finally revealed as, according to Fameolous, the couple broke things off because Ceaser allegedly got another woman pregnant while he was with Dutchess.
According to the site, not only did Ceaser knock up another woman, but said woman aborted the child. They also reported that, though he denied these claims, Dutchess confirmed that it's all true and even threatened to expose him as there is allegedly proof of abuse, police reports, audio recordings and more.
Dutchess also seemed to inadvertently confirm the claims on Instagram:
If you don't watch Black Ink Crew but are into must-see ratchet TV, see who's joined Love & Hip Hop in the video above.