Tomi Lahren Is Slamming The #WomensMarch Again And Getting Hilariously Dragged
Tammy is getting the business after criticizing women for wearing "pussy hats" and "demanding free things."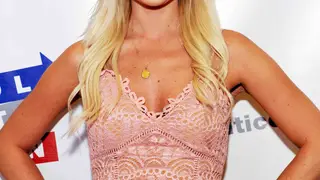 It's that time again. Time to play Mad Tomi!
Today's gripe? The #WomensMarch happening all across America. You see, Tammy, I mean, Tomi, isn't a fan of equal rights between men and women, so she has to be stewing over how many people showed up to Women's Marches in Washington D.C., New York City and other places.

The marches, like last year, were BIG.

So what exactly does Tomi, the fired Blaze show host turned Fox News uhh... (commentor??) think?

Good point, Tori. Profanities aren't part of anything you support. Surely your president hasn't used terms like "shithole" and grab 'em by the pussy" ever.

Aside from the transphobia in this tweet, what does gender fluidity have to do with creating "64" ways to identify yourself? And HTF is that connected with the Women's March?

Seems like Tomi's big mad about the protests and there's nothing she can do about it.

Twitter did something about her tweets though. Check out some of the best responses below.