Yolanda Adams Says 'Kingdom Business' Series is Meant to Showcase Our Flaws and Not to Change Mindsets
BET.com also chatted with co-star Serayah who shares how Empire prepared her for this musical-dramedy series.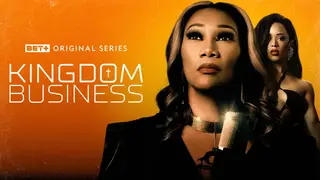 Kingdom Business has hit the BET Plus platform and it's a series you'll want to add to your binge list.
The series takes viewers behind the scenes of the gospel music industry to show it's an industry as complex and riddled with conflict, money, and fame as faith.
The show follows Denita (Yolanda Adams), a gospel superstar who runs the in-house record label Kingdom Records and doubles as First Lady of First Kingdom Church. She also happens to be determined to guard her family and its many secrets at all costs. Just as Denita is enjoying the fruits of her labor, the world she's worked so hard to put together begins to unravel when an unexpected contender in the gospel music scene threatens her status. Rbel (Serayah) is a young woman on the rise whose checkered past as an exotic dancer is no match for her destiny to turn the gospel world on its head with her newfound voice.
It will also feature special guest stars like Tamar Braxton (singer and songwriter) as "Sasha;" La'Miya Good as "Essence;" Kirk Franklin as "Deacon D'Wayne;" Aspen Kennedy as "Zyan;" Kiandra Richardson as "C.J. Jordan-Walker;" Kajuana Shuford Marie as "Dani;" and Sam Malone as "Dex."
BET.com chatted with Yolanda Adams and Serayah about the series, how they meshed on set, and why folks should see the series.
BET.com: Your career and life are heavily associated with the church. And while "come as you are" is a practice well preached, some church folk do continue to pass judgment depending on a person's walk of life. How do you think 'Kingdom Come' will address that issue this season? Do you think it can influence the church community to evolve the way they think about certain topics?
Adams: So, I would say I'm not heavily church-based, but I am a gospel and inspirational artist. I can say for myself, that I have never tried to judge anyone on what they do in their life — that judgment is left up to God. As far as Kingdom Business, this series is not about the church although the church is involved. It's about a record label, the different aspects of business, and how it works. Of course, you have church people involved — and that's where the difference comes between me and the character I play. [Denita] is heavily church has a certain way that she's done things all her life, because of her father and her mother — she wasn't able to be her true self. This show isn't to change the mindset of church people, but to give them a glimpse of how flawed all of us are and how we all need to make different changes in our lives — whether we have faith or not.
BET.com: You have a heart to heart with one of the characters where you discuss control and encourage her to not do anything she doesn't want to do. Has there been a time in your career as an artist where you felt compelled to do something you didn't want to and how did you muster up the courage to not do so?
Serayah: That's a great question. I haven't been backed in a corner as an artist — thank God. So while I haven't had that, I have experienced this with regular decisions like career and team decisions which are a big deal to me. I just make sure that it's authentic to me and how I really feel as opposed to like what everyone else is saying. If I lay down at night and it's my decision that was made, whether it be wrong or right, I feel better than betting on someone else all the time.
BET.com: How much of yourself do you see in your character Denita Jordan?
Adams: I see the gospel artist, the professional businesswoman, the dating mom  — I see all that in me. Now, some of the other stuff, I don't where she gets that from [laughs]. She is a mess chile.
BET.com: You're both singing machines. Is there anything you both learned from each other about the way to control your voice/sing while filming on set?
Serayah: [Yolanda] is like the vocal bible. Before we had even worked together, I had seen an excerpt she did about your voice — how you warm up and the things you need to do. I actually took that. She speaks about being an alto and I'm an alto, singing in the morning. I would say her presence and the anointing — especially singing gospel music is so important. I learned a lot from Yolanda [Adams], Kirk [Franklin], and Warryn [Campbell] to be able to open up that vulnerable space.
Adams: I love her! Her professionalism? Oh my gosh. It's contagious. When we were doing the table read — I think it was one of our first ones — she had different writing instruments. She would put emphasis on something, she would circle something. I said I'm taking that because she has the chops now [laughs]. I realized if I wanted to be effective in this, I should know where the emphasis should go when to back off, and things like that. I will say her voice is beyond compare. I'm not saying this because we're in a series together — I've always loved her as an actress and an artist. I think people be surprised at the versatility of her voice. Her singing live was amazingly pure and powerful at the same time. I really enjoyed her.
BET.com: You were on a musical dramedy in the past. How did that previous show help you prepare for Kingdom Come?
I always say I pretty much grew up on that show. I started when I was 19 like the year after I graduated high school. It helped me prepare in every way from the professional space and in the hard-working space.  [Empire] was the most challenging workforce situation that I have ever been a part of and it challenged me mentally, physically, and emotionally in many ways. I learned a lot about even working relationships, the amount of rehearsal, and the performance I needed to do for the show. I had to do one scene for 16 hours before we got into the groove. They really overshot those performance scenes. It was brutal, but I can withstand it now. It definitely was my boot camp and it prepared me a lot.
BET.com: Also in the show, your character suffers a major loss, which pushes her to pursue her music career. What motivates you to push forward in your own career as an actor / artist?
Serayah: My love for it as it's a genuine thing. Ever since I could remember, I wanted to be on television, and was dancing since I was four years old. I started singing/songwriting probably around nine years old. I was always involved in either a dance team or choir or something. It's one of those things where if I don't do it, I won't know.
BET.com: Are there any particular scriptures or Bible passages that you revisit? Were there any that you both applied while filming Kingdom Come?
Adams: I would say the scripture from Hebrews: "Now faith is the substance of things hoped for, the evidence of things not seen." Even in this character, she needs to take her faith above her fear because she's driven by her fears. So, for myself, I would just want to understand that faith is essential no matter what kind of day you're having.
BET.com: Let BET.com know what is it about Kingdom Come that is going to keep them glued to each episode?
Adams: First of all, the fashions are going to make you come back every episode so that's number one. The questions and cliffhangers after each episode is going to leave you wondering and wanting more.
Serayah: When I read the first episode, I wanted more. The audience will also be able to find who they resonate with, because it's an ensemble cast. There's someone for everyone so it will keep you coming back each week.
Make it your business to watch Kingdom Business and stream the first season now on BET Plus.
---
Ty Cole is a New York-based entertainment reporter and writer for BET.com who covers pop culture, music, and lifestyle. Follow his latest musings on Twitter @IamTyCole.