Jay Pharoah: 'I Have an Explosive Amount of Confidence Right Now'
Jay Pharoah talks new special, reveals funniest moments from Players' Awards.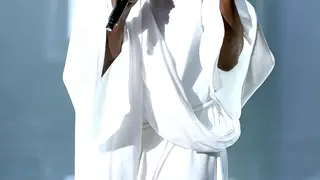 On Saturday Night Live Jay Pharaoh has built his career imitating other people. Now, on his new special, Can I Be Me?, which premieres Saturday (August 1), the 27-year-old comedian/actor looks to show the world just how funny the real Jay Pharoah is.
The Virginia native, who killed it last week as the host of the NBA Player Awards, will incorporate all original jokes and new impressions into the special, which is his biggest as a stand-up so far.
In an exclusive interview with BET.com, Jay shares some of best and funniest moments from behind the scenes at the Players Awards, talks about his evolution as a comic and talks about his "beef" with rival funnyman Michael Blackson.
For those that are only familiar with your impressions, what will surprise them about Can I Be Me?
Yeah, I wanted to show people a different side that they're probably not used to. A lot of people are used to seeing me on YouTube or on SNL doing impressions, but the special has everything: I rap, I have jokes, I got stories, I got tapes, impressions, everything a good special should have, I believe Can I Be Me? has in it. It's really fun and I'm really proud of it and at the end of the day if you feel good about it and you had fun, that will translate to people.
You've conquered many stages but doing a special on a major network is a big deal. Were you nervous about this one?
I really have an explosive amount of confidence right now. I feel like everything over the years has just been like sparring and has just boosted my confidence. Especially on SNL or on the road, television has given me a boost of confidence to where I know what I'm doing, I know what's going to hit, I know where to change it, I know where I should or shouldn't elaborate. SNL has definitely been a good training ground for that. Whatever you do you just have to take control and have command of it.
Speaking of the Players' Awards, were there any funny or memorable moments backstage that you can share?
Fifth Harmony's tour manager, it was so funny, it seems like his job is to ward off all the dudes from talking to them so, I actually know Ali from the group and it was so funny seeing him. I called him out on it. I was like, "This dude right here, he ain't letting nobody get to y'all!" I did this whole character [based on him] was just like, "Ain't nobody gettin' any booty tonight!" It was funny, I mean they're gorgeous, they're beautiful women but I was like, "This ain't The Bodyguard dawg." It was like all these women are Whitney Houston and you're like Kevin Costner trying to keep people away like, "Ain't nobody gettin' none. Nobody gettin' this!" It was a really fun moment. I had another exchange with Allen Iverson that was really nice. We're both from the 757 [Virginia] area and he was just telling me, "You're funny as hell. You're the best," and I was like, "Aww A.I. you're the best. I don't even have this recorded so nobody's gonna believe you said it." It was really fun and between that and bouncing jokes back and forth with Chris Spencer and the rest of the crew it was a fun experience.
Were there any jokes that didn't make the monologue?
There were a lot of jokes that didn't make it to the monologue. We had LeBron James burns, a lot of LeBron hair burns and Kawhi Leonard burns that didn't make it to screen, but hopefully next year. I think they want me to possibly do it again, so next year.
Any of those LeBron burns you can share?
You know what? I would, but I would rather not. Only reason is I don't want a 6-foot-8 LeBron showing up at my apartment. I can't take that kinda heat. I mean, LeBron is a nice guy, but honest to God his hands are humongous and he looks like if he put his hands on my face, I have a very delicate face, very breakable, and even though I lift weights I can't function without a head. I feel like he'll try to pop it off my shoulders, so I'ma just go ahead and save 'em and if they do come out later I'ma have a head protector and a fencing mask, gotta get a fencing mask so he can't squeeze my head off my shoulders.
Speaking of burning people, not sure if you follow Michael Blackson's Instagram account, but that's his specialty. Have you and him ever gone at it?
I do follow Michael Blackson's Instagram and Twitter and shout out to Michael Blackson. We got into a Twitter battle and I destroyed him. We're all having fun and you just don't take yourself too seriously, you roll with the punches and I think that makes you more likable. The more you can laugh at yourself the more people will flock to you and I feel like that's why Michael Blackson has such a strong online presence, because people talk about him but he doesn't care. He'll just take a picture, something like the black foot in Mr. Deeds, and put it side by side with a picture of himself and be like, "Who did this shit to me?," and I'll be like, "Jay Pharaoh did cause you look like a dead-ass frostbite foot."
With that being said, would you be interested in participating in one of the roasts in the future?
I would love to do a roast. I guarantee you I'm probably gonna get some roast jobs from this Players' Awards. Drake would be a good one. Drake is my homie. I would love to do some banter back and forth with him. But I would love for him to burn me too. I hope they do a Drake roast. Cause he's such a nice guy and I think he's incredibly talented.
Jay Pharoah Can I Be Me? premieres Saturday, August 1 at  10:00 p.m. EDT on Showtime.
BET.com is your #1 source for Black celebrity news, photos, exclusive videos and all the latest in the world of hip hop and R&B music.
(Photo: Ethan Miller/BET/Getty Images for BET)