This Weekend: Here's What to Watch, Listen to & Experience
Spend time off with Steve Lacy, Phoebe Robinson, and Gary Clark Jr.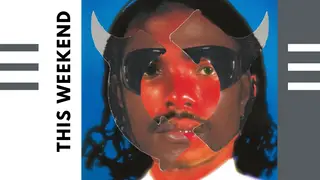 When it comes to content, it's easy for us to stick to what we know or want that old thing back. But for a rare few, being a true content connoisseur is about being on top of what's hot, trending, and next. Luckily, this new guide is everything you need for your music, literary, film, TV, and live experiences.
Each week, yours truly, Kevin L. Clark, will be your go-to advocate, spotlighting all those content cravings worth enjoying.
You're now tuned into This Weekend, a weekly round-up for content culture lovers and those who love to avoid FOMO.
For Friday, July 15, this week's episode finds us with some freshly-discovered treasures for you, your family, and friends to get into + share with others. It contains a healthy dose of sonic vibes, live experiences, and, of course, something streaming that's a feast for the eyes.
So bon appétit to all those true savants who are purveyors of content culture out there.
---
For Listeners Only:
Two of my favorites — Ambré, a Grammy Award-winning singer, and Jvck James, a UK R&B singer you need to stop sleeping on — have collaborated for a new song and visual called "I'm Baby." Taken from her recently released EP, 3000°, the BET Jams, and BET Soul premiered track is a mid-tempo offering that touches on that grey area people in a situationship find themselves in. An art piece of epic proportions, Ambré and Jvck James lean beautifully into this sensual number and allow the viewer to interpret the meaning. If you haven't listened to either of these artists' music, don't wait and press play immediately!
The hero from Alief, Texas — Tobe Nwigwe — has come back into view with his newest video for "Been Broke," which also features Atlanta trap star 2 Chainz, Chamillionaire, and, as always, Tobe's wife and co-rhymer, Fat. 
Highlighting his hometown and Nigerian roots, his mother, and close friends — Tobe flexes this hard-hitter meant specifically for those who don't play. Tobe and co. run laps around the k3yboarrdkid and Nick Baker-production while the visual is decked out in mint green styles, making this song a motivating one to add to your rotation.
Blxst has been killing it regarding his music and guest feature appearances. His latest, "Couldn't Wait For It," finds the Los Angeles native teaming up with Rick Ross as they two complete the fourth and final installment of the Before You Go storyline established by songs like "Every Good Girl," "Never Was Wrong," and "Be Forreal." In the madebyJAMES-directed visual, Blxst head to Atlanta to ink a deal with the "Biggest Mogul" Rozay, and the song hints at some beautifully cool things to come in Blxst's future.
Today marks the release of Steve Lacy's sophomore album, Gemini Rights, and to celebrate, he shares the visual highlighting the project's only guest appearance, Fousheé. "Sunshine," which follows songs "Mercury" and "Bad Habit," is a beautiful and loving tale that adds to Lacy's legacy as a true genre-defying force of nature. 
At only 24, he has worked with some of the best legends in the business, and on "Sunshine," he and Fou bring an effortless cool to this standout number, which many will keep on repeat from this weekend to beyond.

Special Mentions: There is also some exceptionally dope work from the likes of Muni Long feat. Saweetie ("Baby Boo"), YBN Nahmir ("Bows"), Mayorkun ("Certified Loner"), Zyah Belle ("DND"), Tanna Leone ("slow nirvana"), Larry June ("Private Valet"), DaniLeigh ("Dead To Me"), and Joeboy ("Spiritual Gbedu") that you cannot afford to miss.
Watch The Streams:
Airing now on Netflix, Resident Evil, based on the popular Capcom video game, is out, frightening, eager binge-watchers. Lance Reddick (The Wire), Ella Balinska (Run Sweetheart Run), Tetiana Gaidar, and Siena Agudong lead the cast of this horror series, split across two timelines, where Ella must fight through the Umbrella Corporation and hordes of zombies to learn how to combat the deadly and dangerous T-virus. Early indications say this is somewhat better than the movies, but you'll have to log into Netflix to find out for yourself.
John Cho plays a terminally ill father who decides to cram his teenage daughter in a car for a road trip from California to New Orleans before his 20th college reunion. With the promise of spending the last few moments left with his kid, Max (Cho) secretly hopes to reunite Wally (Mia Isaac) with her mother, who left them long ago. Don't Make Me Go explores the eternal bond between a father and daughter, with audiences set to experience some heart and humor from the moment they press play.
Sadie and Lay Lay are back for another round of hijinks, magical moments, and more as That Girl Lay Lay made its premiere this Thursday, July 14. For those unaware, the Nickelodeon show finds Gabrielle Nevaeh Green (Sadie) and her best friend, Lay Lay (Alaya High), an avatar from an app that comes to life, navigating life and teenagers and coming of age. 
In the hour-long premiere, "Ain't That a Glitch," see someone discovering Lay Lay's secret and negatively taking advantage of her power. It's up to Sadie to fix her before they have to perform at an awards show, which means this is one not to miss for fans of the viral child star turned celebrated actress.
Phoebe Robinson's transition to television comes thanks to her book, Everything's Trash, and it is totally worth the watch. Airing on Freeform, the 2 Dope Girl's podcaster, comedian, and now actress, brings us into her dumpster fire of an equally hilarious and heartfelt world. As Phoebe Hill, a Brooklynite who struggles to get "adulting" down, Everything's Trash is sweet, silly, and one to watch as new episodes drop weekly on the platform. Also, be sure to check out BET.com's exclusive chat with the rising star here.
Live at the Experience:
Grammy Award-winner Gary Clark Jr. is ready to come outside with the rest of us. His month-long fall headlining tour across North America will begin on Sept. 9 in Birmingham, Alabama, then visit across major markets coast to coast, and finally close out on Oct. 9 at Hard Rock Live in Wheatland, California.

Clark has been anxiously anticipating his fourth full-length offering, which still has yet to announce a release date. But for those who love his fusion of rock, blues, soul, and innovatively funky guitar playing, seeing Gary Clark Jr. should be one of every true blue audiophile's wish list.

Tickets can be bought here, and below are the full U.S. tour dates:

Sep 09        Birmingham, AL       Avondale Brewery
Sep 11        St. Louis, MO           Music at Intersection
Sep 13        Northfield, OH          MGM Northfield Park
Sep 15        Portland, ME            State Theatre Summer Concert Series at Thompson's Point
Sep 16        Queens, NY            Forest Hills Stadium *Big Climate Pledge event
Sep 17        Asbury Park, NJ      Sea.Hear.Now Festival
Sep 20        Huntington, NY        Paramount Theater
Sep 21        Hershey, PA            Hershey Theater
Sep 23        Ithaca, NY              State Theatre
Sep 24        North Adams, MA    FreshGrass Festival
Sep 25        Bridgeport, CT        Sound on Sound Music & Arts Festival
Sep 27        Wilmington, DE        Copeland Hall at The Grand
Sep 28        Charlottesville, VA   Ting Pavilion
Sep 30        Milwaukee, WI        Riverside Theater
Oct 01         Madison, WI            The Sylvee
Oct 02         Omaha, NE              The Admiral
Oct 04         Salt Lake City, UT     Sandy Amphitheater
Oct 05         Garden City, ID        Revolution Concert House
Oct 06         Reno, NV                 Grand Sierra Resort & Casino - Grand Theater
Oct 08         Sonoma, CA            Harvest Music Festival
Oct 09         Wheatland, CA         Hard Rock Live
---
Check back to BET.com and BET Digital for more weekly installments of This Weekend.
Kevin L. Clark is a screenwriter and entertainment director for BET Digital, who covers the intersection of music, film, pop culture, and social justice. Follow him on @IAmKevitoClark.