Post Malone Postpones Boston Performance Over The Weekend Due To Hospitalization
Malone has been hospitalized after taking a nasty fall during one of his recent performances in Boston on September 17.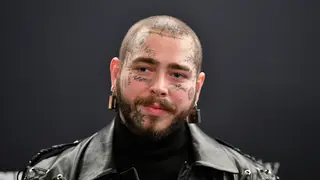 Post Malone had to step away from the stage this weekend and postpone his concert in Boston on Saturday night after being hospitalized following a horrific fall he suffered at his first of two planned concerts for his Twelve Carrot Tour.
Below, you can see in the video the unfortunate fall the rapper took, leading to him to hearing some "cracking noises" on the right side of his body.
In a recent post on his Instagram story, the 27-year-old shares he's been having a "difficult" time breathing and has a stabbing sensation when he moves or breathes.
"On tour, I usually wake up around 4 o'clock PM, and today I woke up to cracking sounds [sic] on the right side of my body," he wrote.
"I'm having a very difficult time breathing, and there's like a stabbing pain whenever I breathe or move," he continued. "We're in the hospital now, but I can't do the show tonight with this pain."
TD Garden released a statement to fans confirming the rapper postponing his show with fans being able to retain their already purchased tickets to be used for a new date.
We wish Malone a speedy recovery.