Missy Elliott's VMA Performance Was One For The Ages And Twitter Couldn't Hold It Together
"Missy is forever powerful."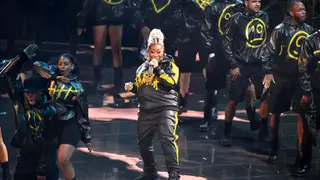 Virginia's legendary Missy Elliott proved that not only was she well overdue to win an MTV Video Vanguard award, but why she's one of the most influential Hip Hop stars of all-time.
During her performance at the 2019 MTV Video Music Awards, the Virginia native began her set in a mirrored room for "Throw It Back." She then switched it up by flying around in her trademark black vinyl jumpsuit in a recreation of her "I Can't Stand The Rain" video.
As the music switched up for her next song performance so did the stage. Turning red, it provided a perfect surface for Missy to lead her dancers in an energetic rendition of "Get Ur Freak On." 
"Work It," then followed as Elliott transitioned into a Yellow jumpsuit. "Pass That Dutch" was right after as Missy turned into a Scarecrow overlooking cornfield that parted for an entrance of dancers.
Finally, the crowd lost control for "Lose Control." Video of lava flowing engulfed the stage capping off a truly mind-blowing performance. 
See video of Missy Elliott's Video Vanguard set at the 2019 MTV VMAs below.