2021 Scripps Spelling Bee Winner Zaila Avant-garde Is Becoming a Children's Book Author
The now-16-year-old phenom earned praise as the first Black winner of the legendary competition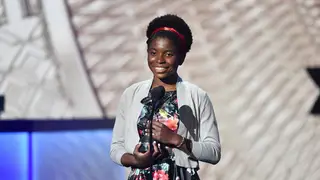 Louisiana-native Zaila Avant-garde, the 2021 Scripps National Spelling Bee winner, can now add author to her impressive resume.
According to PEOPLE, Avant-garde will release two brand new books for Random House Children's Books. The first release is a nonfiction book called It's Not Bragging If It's True: How to Be Awesome at Life, set to be released on May 2.
A picture book titled Words of Wonder from Z to A — will be released on June 27.
But there's more; the young phenom has a second picture book, two Step Into Reading titles, and a Little Golden Book will soon be released as part of her current program.
"These books are for the readers who have their favorite stories memorized forward and backward and dare their parents not to read to them at bedtime (like me)," Avant-garde said in a press release provided to PEOPLE this week.
"But they are most of all dedicated to the kids who are nervous about picking up a book and reading it, who don't read them simply because they think they are not good at it. I'm here to say you can do it too," she added.
It's Not Bragging If It's True: How to Be Awesome at Life is for readers ages 8 to 12 and features various personal anecdotes from Zaila on how she accomplished so much at a young age. She says she hopes her book "will motivate and uplift other kids who are pursuing their dreams."
Words of Wonder from Z to A is illustrated by Keisha Morris. In it, Zaila uses some of her favorite motivational words — including "kindness," "hope," and "resilience" — to inspire young readers and features a special quote from a famous thought leader on every page.
Now 16, Avant-garde is not just the first African American to win the Scripps National Spelling Bee; that same year, she was honored as SportsKid of the Year by Sports Illustrated Kids and won the Stan Musial Award for Extraordinary Character in 2021. She aspires to play college basketball — and maybe, one day, become an NBA coach. She also has a passion for neuroscience, forensics, or molecular biology.
"I'm super interested in the inner workings of the human mind," she told PEOPLE. "I want to at least help solve the almost unsolvable puzzle of how the human mind works, or maybe solve it all together."
As far as her writing career, she says, "When I was a little girl, if you had told me that in ten years I would be writing books of my own, I wouldn't have believed it. This is such an awesome feeling."