Safaree Samuels Thinks People Should Stop Glorifying Designer Handbags: 'They Want A Bag With No Money In It'
Do you believe a luxury handbag can be an investment piece? See that Twitter post that's sparked a conversation.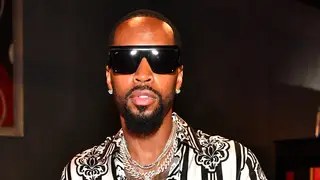 Safaree Samuels is not here for the glorification of designer bags that cost more than most people's salaries. The Love and Hip Hop star recently took to Twitter to voice his opinion on the rising interest in expensive handbags and his hopes that the fad will one day go away.
"I can't wait for the day when people stop glorifying these handbags," he tweeted on Friday (Feb. 10).
Safaree went on to share that he doesn't understand why people put so much stake into expensive bags.
"[The bags] sit in your closet for the majority of its life, but these girls [are] getting brainwashed," he continued. "They want a bag with no money in it. [One] of my little cousins said she wants a Birkin becuz she saw it on IG.. smh so sad."
While some people agreed, others countered his tweet by pointing out that people often use designer handbags as investment pieces.
FYI: According to Business Insider, Hermès Birkin bags are considered the most expensive bags in the world. The luxury brand is very popular amongst celebrities/influencers with prices ranging from $40,000 to $500,000 for a single handbag.
Although the bags are very pricey, a study in 2017 revealed that the value of Hermès Birkin bags has increased 500% in the last 35 years. This is why some people consider it a fashion investment piece that can be resold at a later date.
What do you think? Would you spend major coins on a Birkin or do you think Safaree has a point? Share your thoughts in the comments.