Black Unemployment Ticked Up Slightly in March
The Black unemployment rate for March was 12.4 percent and the overall unemployment rate was 6.7 percent.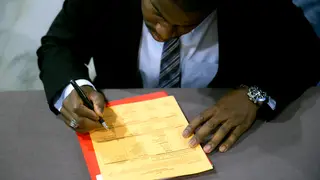 According to figures released by the Labor Department, Black unemployment went from 12 percent in February to 12.4 percent in March. Meanwhile, the overall unemployment rate held steady at 6.7 percent.
The economy added 192,000 jobs, a figure higher than the 191,000 ADP had predicted in its monthly report on job trends, and higher than the six-month average of 187,000. Business services added the most jobs with 57,000 as well as health care and construction at 19,000 each. 
"The economy continued to add jobs in March at a pace consistent with job growth over the past year. Additionally, the unemployment rate was steady while the labor force participation rate edged up. While today's data indicates that the recovery is continuing to unfold, the president still believes further steps must be taken to strengthen growth and boost job creation," said Jason Furman, chairman of the White House Council of Economic Advisers. "In addition to encouraging [the Senate's decision to move forward with unemployment benefits extension] and other action in Congress, such as raising the minimum wage and passing the Paycheck Fairness Act, the president will continue to act on his own executive authority wherever possible to expand economic opportunity for American families."
House Majority Leader Eric Cantor also called for action, albeit of a different sort, and warned of the dangers of being "satisfied with the recent status quo."
"An America that works encourages employment, ambition and opportunity. It's time that Democrats set politics aside, and embrace the common-sense and bipartisan measures that have passed the House to help grow the economy and create jobs. The status quo is not good enough, and Democrats should stop pretending it is," Cantor said.
BET National News - Keep up to date with breaking news stories from around the nation, including headlines from the hip hop and entertainment world. Click here to subscribe to our newsletter. 
(Photo: Andrew Harrer/Bloomberg via Getty Images)