Slutty Vegan Founder New Cookbook 'Eat Plants B*tch' Will Make You Forget About Meat
The restaurateur talks about publishing "Eat Plants B*tch" and living her wildest dreams.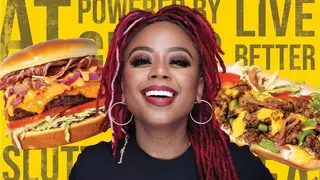 If the words sweet jerk plantains with lettuce, tomato, and slut sauce on a vegan Hawaiian bun made your ears and appetite perk up then we have just the perfect cookbook for you; "Eat Plants B*tch: 91 Recipes That Will Blow Your Meat Loving Mind, by CEO and founder of the popular Slutty Vegan ATL Pinky Cole. The book, like her restaurants —there are nine— has food combinations that will make you forget about meat altogether. Also, guest chefs featured in the book offer their unique take on vegan-style food. For instance, the Chickpea Surprise from Chef Quan is an easy yet supremely tasty dish.
Cole doesn't describe herself as a chef, in fact, she says she doesn't "aspire to be a chef," but she saw how food brought people together. It's that sense of community that drew her to this career. And that has paid off as Cole's food has caught the attention of a number of high-profile celebs.
In a recent interview with Urban Eats & Treats hosted by Rip Micheals. Shaquille O'Neal spoke about why he is drawn to the vegan restaurant. "I like cheeseburgers, right, but the way she cooks it, like I can eat healthy but still feel like I am eating bad," he said. Cole even received a shout-out about her cookbook from the one-and-only Patti Labelle, who is known almost as much for her cooking skills as she is for her impeccable singing.
According to Forbes, she has raised $25 million through a Series A funding round valuing her company at $100 million. She intends to use that money to open 20 Slutty Vegan locations around the country within the next year. Cole spoke to BET.com about  living out her wildest dreams, the meaning behind her brand, and what inspired her to become vegan in the first place.
BET.com: In your cookbook, you state that you had a primarily vegetarian diet growing up because your mom, a Jamaican Rastafarian, didn't eat meat but occasionally had fish as the tradition allows. What was the impetus that led you to switch to becoming vegan?
Pinky Cole: In 2007, I was still eating chicken and turkey, and then in 2007, I removed [all meat] except fish, and then in 2014, I went completely vegan. And that was the best decision I ever made because I've always been conscious about the foods that I ate, and growing up in a household where you have a Rastafarian parent, all we ate was rice and peas (red kidney beans) and baked beans and rice. We ate a lot of provisions and ground foods (starchy root vegetables). So, it wasn't a hard transition for me.
BET.com:  I read that you had a pop-up restaurant that served jerk chicken. How did you pivot from that into launching Slutty Vegan in Atlanta?
Pinky Cole: I wanted to create a Jamaican restaurant that had items that people could enjoy, and funny enough, I never had any protein outside of fish from that restaurant. Although it was successful—people were lined up around the block—it wasn't authentic to who I was.
When I lost that restaurant to a grease fire, I had to walk away from everything and start from scratch, which was the best thing that could have happened to me. It allowed me to regroup and rebrand. I did that, and I came up with Slutty Vegan. My message to entrepreneurs who want to start businesses is that it has to align with who you are because if it doesn't, it won't last.
BET.com: Was working with food always your passion?
Pinky Cole: It happened by accident. I've always been a foodie because I always loved to eat, and growing up in a Caribbean household, you ate a home-cooked meal Monday through Thursday. I don't know what it feels like to eat out all the time because we always had a home-cooked meal.
I'm not a trained chef, and I don't aspire to be one, but I saw what food did to families. It brought people together.
BET.com:   How did you come up with the name Slutty Vegan?
Pinky Cole: It hit me like the light bulb out of nowhere, and I thought that you wouldn't usually put slutty and vegan together. I knew that when it's said out loud, people will clutch their pearls and start asking questions, which is what I wanted.
If I had chosen the name Pinky's Vegan, no one would have come. It would have felt too green. But Slutty Vegan isn't something that people are used to in the vegan space, and as a former television producer, I know what people pay attention to.
I wanted to show people that you don't have to fit into the status quo, and you can have a business that has a raunchy name and make it fun, engaging, entertaining and educate people at the same time.
BET.com:  That seems to resonate in the book as well. It feels like the message isn't about converting anyone but getting people to try something new that they could come to like.
Pinky Cole: It's interesting because people get surprised when I bring that energy to them. Society has this idea that vegans are going to condemn you if you don't want to become a vegan, but I'm not that girl. I'm going to introduce you to items that otherwise you probably wouldn't be interested in, and then you'll be like, 'damn, well, Pinky let me try this, and this is good, and I can do this, and I do it every day.'
BET.com:  Now, you have celebs endorsing and talking about you and you recently secured millions in funding. How has that all been for you?
Pinky Cole: I've had the best four years of my life than I've had in all of my almost 35 years. We used to get hand-me-downs for Christmas; everybody else had new dolls, and I didn't get those growing up. Maybe there was a reason I didn't get all those dolls; maybe that made me focus on something different. All of my wildest dreams have come true in this business—everything I ever dreamed of as a little girl watching "Golden Girls" and "Days of Our Lives" with my grandmother, and I'm just getting started.
"Eat Plants, B*tch: 91 Vegan Recipes That Will Blow Your Meat-Loving Mind"  is on sale now.  You can catch Pinky Cole on her book tour at one of the below dates:
Nov. 19, 2022 Buckhead Theatre, Atlanta, GAr
Nov. 21, 2022 Regent Theatre, Los Angeles, CA
Nov. 28, 2022 Echo Lounge & Music Hall, Dallas, TX
Dec. 2, 2022 Baltimore SoundStage, Baltimore, MD
Editor's note: This interview was edited and condensed for clarity.