5 Books To Snuggle Up With This Fall
Michael K. Williams and Jenifer Lewis' memoirs are two of the five great books you should cuddle up with this season.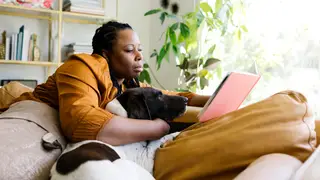 Pumpkin spice, scarves, leaf peeping, and apple picking are all things that bring to mind crisp fall days and cool nights. Even if the idea of lower temps and shorter days don't excite you, maybe a good book as you nestle in front of a fireplace might.
While lists that curate "best beach reads" are easy to find, autumn is also the perfect time to lose yourself in a good novel, memoir, or coming-of-age novel. So grab a latte, hot tea, or cocoa and check out these great fall books worth adding to your reading list.
Michael K. Williams died on Sept. 6, 2021, an announcement that shocked fans and the entertainment community. The acclaimed actor, whose career included roles such as Omar Little in The Wire, Chalky White in Boardwalk Empire, and Montrose Freeman in Lovecraft Country, had almost finished his memoir before his passing.
In interviews, the Emmy-nominated actor often spoke of his early career as a dancer and how a bar fight led to the scar on his face. But even more so, he was open and honest about his battle with addictions, which is how this memoir begins, "Way before I was anything or anyone, I was an addict. That was my identity, what people thought of me…"
However, as you make your way through his memoir, "Scenes From My Life" you get a better understanding of his gratitude, his commitment to his Brooklyn neighborhood and how his life informed his ability to humanize and play characters whose voices often went unheard.
"If I Survive You" by Jonathan Escoffery
An all too relatable question some immigrants have had to face upon arrival and as they traverse America is, "What are you?" as Jonathan Escoffery points out in his book "If I Survive You," the people asking are expectant. These and many other anecdotes from Escoffery will be relatable to many.
However, being an outsider and finding one's way is not a unique immigrant because part of being human is figuring out where you fit in. Hence, this and other instances make this book—a collection of interconnected short stories— a must-read. The novel is humorous, tender, and at times heartbreaking as it addresses issues surrounding love, self-identity, and race. From the first page, you will understand why it is a Best Book of September by Amazon and Apple Books.
"Walking In My Joy In These Streets" by Jenifer Lewis
Jenifer Lewis is known for being straightforward and telling like it is, and her memoir does not disappoint. However, the book is also a celebration of how the Black-ish actress and activist values herself and a message to all of us to do the same. "Walking In My Joy In These Streets" is a reminder to live in gratitude and be your own cheerleader while fearlessly pursuing your ambitions.
"The Black Period: On Personhood, Race, And Origin" by Hafizah Augustus Geter
Nigerian American poet Hafizah Augustus Geter's memoir "The Black Period: On Personhood, Race, And Origin'' is more than a retelling of the author's life. Through its lyrical syntax, Geter addresses systems of inequality for non-able-bodied persons, people in the LGBTQ+ community, and people of color. As she forges her path, she lets go of the past and embraces who she truly is.
Meet Nonso, Remi, Aisha, and Solape, children of well-to-do families. As students at an all-girls boarding school, they have formed a sisterhood but soon face life-changing repercussions after participating in a school revolt.
The novel "Jolof Rice And Other Revolutions: A Novel In Interlocking Stories" by Omolola Ijeoma Ogunyemi traverses between Nigeria and America is a moving story about family, friendship, love, and finding one's place in the world.