Here Are 5 New Books You Should Read in November
This month's new books include one about the history of hip-hop and another about Dr. Martin Luther King Jr.'s iconic speech.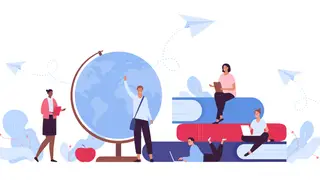 As we dive deeper into fall and get closer to the holidays, you might feel a little flustered. But it's ok to take a moment and breathe because good books are available this November to read. There is a book that highlights the speech of an icon, one that celebrates women of color, one that plows through grief, another that takes on the history of hip-hop to the last one that addresses what it can feel like to be a Black mom.
Here are five new books to read and love this November.
I Have A Dream by Dr. Martin Luther King Jr. foreword by Amanda Gorman
One could easily say that Amanda Gorman, the youngest inaugural poet in U.S. history and award-winning writer, is fulfilling the dream Dr. Martin Luther King Jr. had for Black Americans. Gorman, in the foreword, gives us a glimpse into what Dr. King's speech means to her as it is juxtaposed against her reading her poetry at the inauguration of President Joe Biden. The book itself is the perfect collectible item and one to give as a gift. It lays out Dr. King's keynote speech from Aug. 28, 1963, as he stood before thousands of Americans at the Lincoln Memorial in Washington, D.C., where he uttered the words we won't soon forget, "I have a dream."
The Furrows, an elegy by Namwali Serpell
In her follow-up book to her award-winning debut novel The Old Drift, Namwali Serpell tackles mourning, mistaken identity, and the desire for reunion with lost ones. The Furrow is an unforgettable story about a family's history filled with unexpected turns and twists that captures grief in a sad yet beautiful way. The author, who is a professor of English at Harvard, also explores the concept of double consciousness —the term is often associated with William Edward Burghardt Du Bois — a concept of inward "twoness" assumed to be experienced by African-Americans because of their oppression and being devalued in a white-dominated society. It isn't an easy read but rarely books about grief. However, it is well worth it.
The Mamas: What I Learned About Kids Class And Race From Moms Like Me by Helena Andrews-Dyer
Author Helena Andrews-Dyer lives in a gentrified neighborhood in Washington, DC, and after having her first child, she joined a local mom group where she was one of the only Black mothers. And while there are noticeable socioeconomic and racial differences, Andrews-Dyer enjoyed her time away from reality inside the cocoon of the group until the death of George Floyd. This event quickly brought her back to reality and the realization that although they are all moms dealing with some similar issues, there were situations of cultural significance that would remain unique to her. The Mamas chronicles Andrews-Dyer journey of navigating a pandemic, a social movement for justice, all the while being an Ivy-League mom still seeking validation.
For Brown Girls by Prisca Dorcas Mojica Rodriguez
Founder of Latina Rebels Prisca Dorcas Mojica Rodriguez is no stranger to speaking up; however, For Brown Girls is crafted in a way that educates, celebrates, and empowers women. Rodriguez addresses imposter syndrome, colorism, and how to change our worldview while centering yourself. While this is written from a Latina perspective, its message is universal to women of color: there is a light and a power in you that you use to fight against sexism and racism.
The Come Up by Jonathan Abrams
Yes, it is thick and almost as big as a doorstop, but The Come Up by Jonathan Abrams is a must-read, even if you are a casual listener of hip-hop. It is a deep dive into the fifty-year history of a style of music that took shape in the summer of 1973 that became known as hip hop and is now universal. The New York Times best-selling author of Boys Among Men provides first-hand accounts from Grandmaster Caz, Ice Cube, Kool Moe Dee, and others. It is a book you collect and, with the holidays coming, will make a great gift.