Chris Samuels Breaks Silence Following Divorce from Monique Samuels
They divorced after a decade of marriage.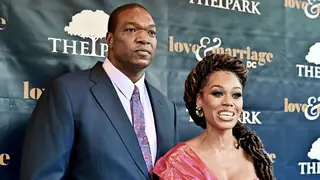 Days after Chris Samuels and Monique Samuels finalized their divorce, Chris is speaking out.
On the last day of September, Chris posted an inspirational and poignant message on Instagram, along with a photo of him gleaming with joy, as reported by Collider.
"Keep trusting in him at all times!!!" the post caption read. "He will bring you peace & happiness!!!"
The photo of the post featured two different drawings: one entitled "My Plan" and the other "God's Plan."
"Sometimes God doesn't do things the way we think he should. But God has a perfect plan for your life," said the note within the photo.
This year, Chris has been on a transformative journey.
On Monday (September 25), a Montgomery County Family Court representative confirmed he and Monique had finalized their divorce with PEOPLE. They had been married for ten years and share three kids: daughter Milani, 8, and sons Christopher, 10, and Chase, 4.
According to the outlet, the divorce filing is sealed. A judge signed off on the judgment after their last trial date earlier this month.
On April 14, The Real Housewives of Potomac alum filed a complaint to end their marriage, as reported by PEOPLE. But she filed an amendment to that request less than 90 days later.
Last year, PEOPLE reported that the Samuels had decided to separate after their decade-long union. But Monique and Chris refuted that information in a YouTube video.
In the 69-minute video, Monique said, "When you say the word 'separation,' that insinuates the road to divorce. Are Chris and I getting a divorce? No, we're not getting a divorce. Are Chris and I going our separate ways?... Absolutely not. Nobody ever said that. OK?"
Chris also said he had learned the significance of "digging up a lot of this stuff, dealing with it," and "putting it behind me so I can be the better me" while in therapy.