Arkansas Congregation Holds Service After 'Catastrophic' Tornado Destroys Church
'God has something better and greater,' the pastor tells his members.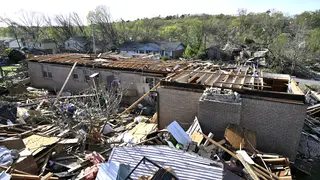 The resilience and faith of a Black congregation was on full display Sunday (April 2) after a tornado completely destroyed their church. The National Weather Service referred to the damage left by the storms as "catastrophic." With the roof caved in and walls torn down, members of Pastor Eddie Miller's New Commandment Church of God in Christ in Jacksonville, Ark. held Palm Sunday service on the outside porch.
Last December, when the congregation paid off the mortgage, everyone was excited, Miller told local station THV11. But instead of lamenting the devastating loss, Miller rallied his members, telling them that faith and community would get them through this crisis.
"And we know that God has something better and greater," he said. "Will he allow something like this to happen? So we just depend on him for our faith is strong."
CNN reports that at least 32 people died from storms and tornadoes that ripped through seven states in the South and Midwest on April 1. Deaths were confirmed in Arkansas, Indiana and Tennessee, where officials said the statewide death toll reached at least 15.
In Arkansas, the storm destroyed homes and businesses, leaving thousands without power and at least five people dead. After the storm passed, a phone call from a friend prompted Miller to check on the church that seats up to 250 people.
"When I turned the corner and saw the church, I was speechless, man. Knock the air out of my sails," the pastor told THV11.
Miraculously, three crosses remained intact on a wall amid a pile of debris and what was left of the church building's frame.
Undaunted, the pastor said he's determined to rebuild the church in the same place so that the congregation can continue to serve their community.
"God planted us here. I dare not go anywhere. Yes, we gotta be real right here," Miller told NewsNation.