Too Far? Alexis Skyy Goes Off On Masika For Saying This About Her Child
These two keep finding new lows to hit.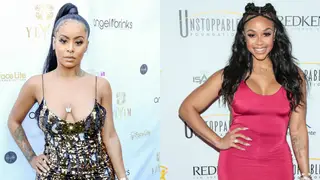 It's safe to say that the ongoing beef between Masika Kalysha and Alexis Skyy will remain in that state as they each keep taking to social media to express her unsolicited disdain for the other.
Last week, the first jab was thrown by Alexis, and this time the roles seem to have reversed, for now. How fun.
The "Real baby mamas of Fetty Wap" recently got into it after a fan asked Masika if she and her nemesis would ever bury the hatchet and allow their children, who are technically half-siblings, to have a play date. Needless to say, Masika wasn't feeling the idea and went on to claim that Alexis is a negligent mother.
"Honey imma keep ignoring ahonda like she ignores that child," she tweeted. "Be blessed don't come on my page with that mess sweets."
After The Shade Room posted her response to Instagram, Alexis clapped back by attacking Masika's weight and claimed she's addicted to drugs, among other things.
"Look at Mathicko the hungry hippo, I wish the food going in your mouth taste as bitter as my name come out of your mouth," she wrote. "I'll take a page from your mommy mistakes book, & keep the medicine cabinet locked... Not trying to raise no addict gurllllllll"
It's safe to say this is beyond exhausting at this point.
Take a look at them arguing like bored toddlers, below: