Hip Hop Awards 2022: Fat Joe, Remy Ma, Wu-Tang and LOUD 30 Perform a Club-Poppin' Melody Of Hits
Iconic members of the LOUD 30 camp had the audience on their feet!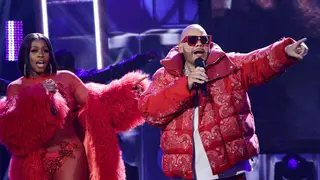 To close out the BET Hip Hop Awards 2022, the LOUD 30 camp took to the stage to bring down the house with a club-poppin' melody of hits.
With founder and chairman of Loud Records, Steve Rifkind, kicking off the performance to thank all of his iconic artists on the roster, audience members didn't know what was in store for them when Dead Prez, Mobb Deep, Joey Bada$$, Lil Kim, M.O.P, Fat Joe, Remy Ma, Terror Squad, David Banner, Lil Flip, Project Pat, Three 6 Mafia, and Wu-Tang Clan appeared on stage to perform some of their top hits.
Kicking off the concert-like performance, Dead Prez performed "Hip Hop," before passing the mic off to Joey Bada$$, Havoc of Mobb Deep and Lil Kim while they performed "Shook Ones" and "Quiet Storm."
Getting the crowd on their feet, M.O.P and Remy Ma then took over the stage to perform "Ante Up," before Remy and Fat Joe transitioned into Big Pun's "Still Not A Playa," before seamlessly diving into Fat Joe's "Lean Back."
David Banner and Lil Flip's "Like A Pimp" keeps the energy of the crowd flowing before Project Pat's "Chickenhead" takes over the stage, next up is  Three 6 Mafia who brought the heat and the drip with "Stay Fly."
And although Wu-Tang is out on tour right now, they still virtually closed out the LOUD 30 set with "Ain't Nuthing Ta F' Wit," "M-E-T-H-O-D MAN," and "C.R.E.A.M."