Mind Your Money: Expert Advice For This Georgia Couple On Saving While Paying Off $300k Student Loan
This frugal and fabulous couple wants to make sure that they have more than social security to live on when they retire.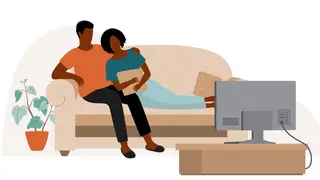 Name: Tariq and Courtney P.* 
Occupations: Courtney is an attorney, and Tariq is a government contractor and disabled veteran.
Salary: $45,000 and about $80,000, when working
Goals: Purchasing a home and saving for retirement
Courtney P.* is an attorney who blossomed in her profession later in life. The 40-year-old tried to get into law school for a decade before finally being accepted. As a new attorney, she earns a $45,000 salary, working in criminal defense, business, and family law. 
Her husband, Tariq*, 40, is a disabled veteran and a government contractor. His work salary fluctuates from zero, when the work has dried up, to more than $80,000. 
The Georgia residents want to buy a home once the white-hot real estate market cools off and save for retirement. But they don't have retirement savings. "I want to have something other than social security to live on," says Courtney. 
As a couple, Tariq and Courtney are both frugal and fabulous: They drive their cars "until the wheels fall off," said Courtney, who married Tariq eight years ago. And will dine at Cracker Barrel.
However, the DINK (double-income-no-kids) will splurge on cruises to the Caribbean, flights to Sydney, Australia, and hopping to Hawaii for vacation. The lovebirds invested in monthly couples' massages from their favorite Buckhead Atlanta spa to get through Courtney's rigorous law school program. They subscribe to the Hello Fresh meal delivery service ($70 per week) and spend $500 per month on food.
As a disabled veteran, Tariq receives a monthly income that he uses to cover the $2,300 rent on their four-bedroom, three-and-a-half-bath home with a bonus room. Courtney uses the extra income she earns - $8,000 per year - as a choir pianist to pay for their $400 car notes. And luckily, they don't have credit card debt.
Courtney spends $56 per month on healthcare; the government covers Tariq's because of his military service. Her student loans are about $300,000. The couple made extra money in the past, purchasing tax liens, a roughly 20 percent return. Courtney does contract work helping indigent clients enter rehab, earning $30 per hour.
Because of Tariq's inconsistent income, the couple has learned essentially to live on one income as a safeguard, allowing them to save more than $50,000. 
"You are going to overspend for what you are getting at this point," Tariq said.
Both Tariq and Courtney are open to waiting to save enough to buy a home cash if need be. "You want to own something and not live in something someone else owns all of your life," he said.
Neal Hansen, a financial advisor at Net Worth Advisory Group, says someone getting a late start on retirement savings should save at least 15-20 percent of their salary each year. Hansen is a fan of using an employer-sponsored plan such as a 401(k) and taking advantage of the employer match.
"Most employer plans have the option to automatically increase or step-up payroll contributions each year. Furthermore, some plans even allow you to add some or all your bonus to the account," Hansen said.
If a spouse does not have an employer plan, consider saving in a Roth IRA at a discount brokerage firm such as Vanguard, Fidelity, or Schwab, he said.
To decrease student-loan debt, borrowers have multiple options such as working at a job that offers student loan repayment assistance, said Andrew Pentis, one of Student Loan Hero's certified student loan counselors and higher education finance expert. In addition, a borrower with good credit may consider refinancing private student loans for a lower interest rate. Shop around for the best rate.
Another way to manage the monthly bill is to enter an income-driven repayment plan, which limits payments based on your income, Pentis said. If figuring out the best way to repay student loan balances is overwhelming, some nonprofits offer student loan repayment counseling, but make sure they are certified, Pentis said. 
Home is Where the Heart Is
The Neighborhood Assistance Corporation of America is an economic justice advocacy nonprofit that helps people get desirable mortgages. Members (that's what the clients are called) can get mortgages with no down payment, closing costs, or fees at a below-market interest rate. NACA doesn't look at credit scores.
Instead, it looks at the payments that potential homeowners may have from over the last year. The agency counsels potential homeowners for as long as it takes to get into a home.
"We do this the right way, "said Bruce Marks, CEO, and founder of NACA. "It's character-based lending."
Editor's Note: *names have been changed.