Mind Your Money: How This Mixologist Is Making Her Home Buying Dreams A Reality On A $75,000 Salary
Manhattan's "Cocktail Snob" is ready to shake up her finances for a better future.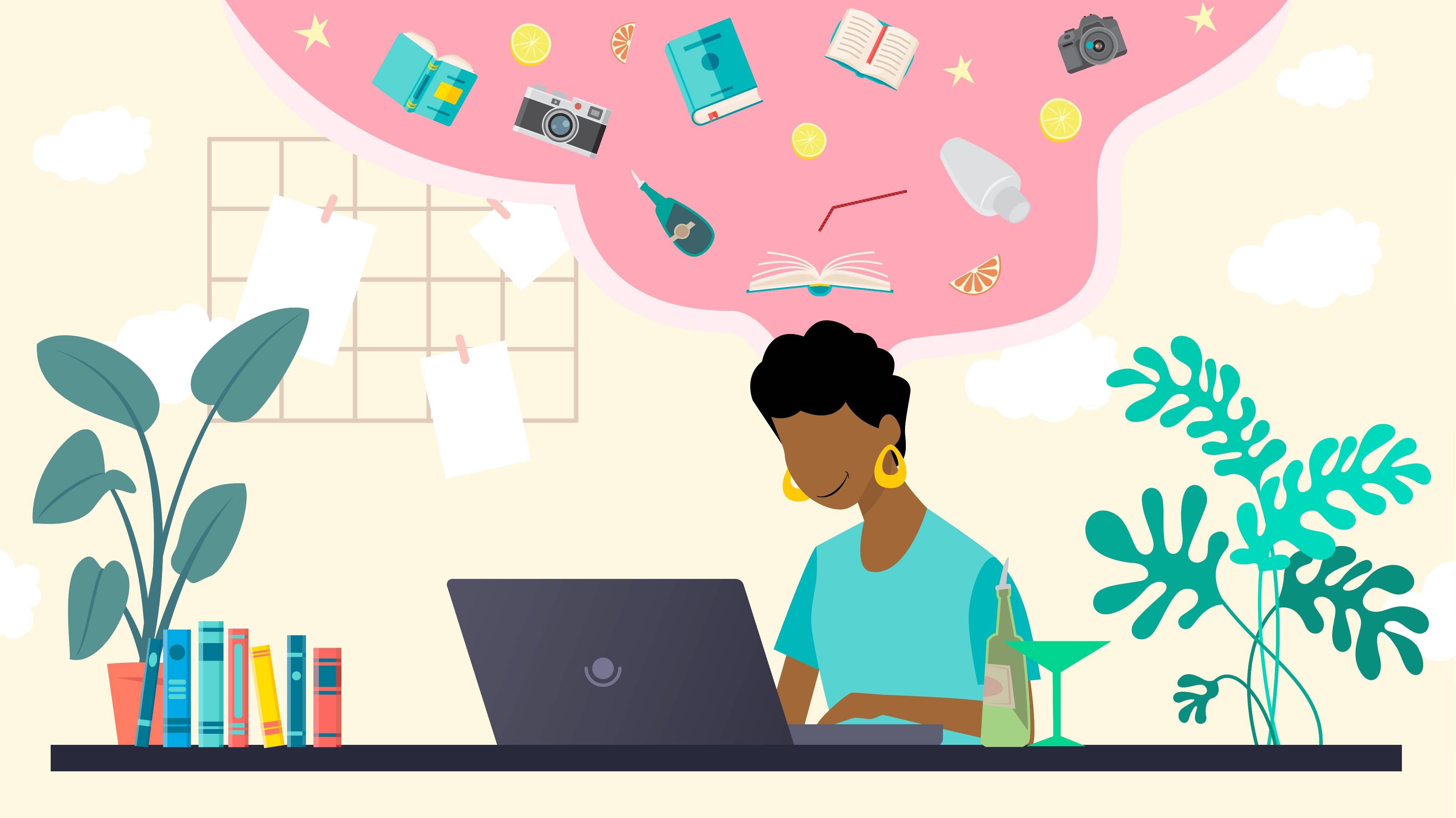 Occupation: College Administrator/ Content Creator, Virtual and IRL Mixology Instructor, and Blogger at The Cocktail Snob 
Side Hustle Stacks: $3,000 to $4,000 monthly
Goal: Purchase a home in New York City as a single woman
Money Shift: Just got a book deal worth $10,000
By day, Camille W. is an administrator at a private college in New York City, working her savvy social skills to help to attract top students to the university. But by night, the 33-year-old doubles as a mixologist extraordinaire, serving cocktail recipes, private online lessons, and cocktail culture content for corporations and through her brand, The Cocktail Snob.
Now, this Manhattan millennial wants to purchase her first home in the City, where the median sale price is $1.1 million. She recently nabbed a book deal for her first book, Free Spirit Cocktails, which will showcase "mocktail" or no-alcohol drink recipes, to be published in November. That accomplishment came with a $10,000 book advance that Camille must decide what to do with it.
"My finances are a work in progress," said Camille, who uses the Digit App to help with money management.
Camille is single but lives with her boyfriend. They go "50-50" on many of their household bills. Their 700-square-foot Upper Manhattan apartment's rent is $1,900 per month, and cable is $180.
She pays her cell phone and lights that run $100 and up to $70 per month, respectively.
She is focusing on eliminating debt. Her student loan from her master's degree is $400 per month. Camille paid off her credit cards due to income increases and student loan pandemic deferments last year; one had had a $20,000 balance.
Like most influencers, Camille invests in her brand—$12 heavily pigmented lipsticks that show up nicely on the camera while teaching private virtual cocktail courses. To make sure that her nails look good while she stirs drinks, she spends about $50 monthly on manicures. She splurges on designer lingerie and even a $200 haircut from a salon specializing in natural curls.
"I am not afraid to treat myself. " Camille said. "I work hard."  
Her Cocktail Snob newsletter is $20 per month; graphics are $12 also monthly. Her website costs $200 per year, and the domain is $100 paid annually. Social media software to schedule posts is also $12 per month.
Income from her The Cocktail Snob brand fluctuates. In addition to the book deal, the brand brings in revenue from private virtual cocktail lessons, corporate content creation, sponsored social media posts, and freelance photography. She earns anywhere from $3,000 to $4,000 per month.
Camille has worked in college administration for years and recently got promoted, earning her a $75,000 salary. A prior job at another college was in residence life, which provided free housing and a stipend for travel expenses, helping her to amass a $17,000 savings. She almost doubled that during the pandemic to $32,000, thanks to her corporate content side clients.
She doesn't have the housing perks in her current job, but it is at a "destination university" that will set her up for the next career move.
To help this mixologist get into the spirit of making the right money moves, we asked financial experts to weigh in on Camille's goals to purchase a New York home as a single woman. She will likely have her boyfriend live with her and advise on the best use of her five-figure book advance.
"New York City is among the worst places for first-time homebuyers," warned Jill Gonzalez, a senior analyst with Wallet Hub. "The cost of living there is very high, as is the cost per square foot of a home. But this doesn't mean that it's impossible for someone with (her) income to purchase a home, especially now that mortgage interest rates are … low."
Camille can find out how much home she qualifies for by using an online calculator or talking to a mortgage lender. As a general rule, the mortgage payment should make up about 25 to 30 percent of your monthly income, Gonzalez said. And don't forget to factor in other homeownership costs, such as property taxes, insurance, and repairs, Gonzalez said.
The $10,000 book deal advance can be used to increase the down payment for the home or to pay off debt "because it could increase (her) chance of getting approved for a mortgage," Gonzalez said
Also, New York has the city-sponsored website NYC Housing Connect where residents can register to find and apply for affordable housing opportunities. The site also sends out email updates when new lotteries are accepting applications.
On the home buying front, Morghan Richardson, a partner in the Matrimonial and Family Law practice at Davidoff Hutcher & Citron in New York City, says that getting a cohabitation agreement is non-negotiable for domestic partners.
"It's like a prenup for people who aren't married," Richardson said.
A good cohabitation agreement, which may run $3,500 to $5,000, depending on the attorney and location, should address who has rights to the real estate, who is paying household expenses and how, and if there are household debts, how they will be repaid, Richardson said.
The agreement can state how long the partner can stay after a breakup. Without a cohabitation agreement, after a month of living together, the homeowner may have to start an eviction process to get an ex-lover or partner out of the home.
"She can't just lock the door and tell him he's out," Richardson said.
In addition, if a homeowner with no cohabitation agreement has her domestic partner paying all of the bills long term, the homeowner may be required to pay the domestic partner proceeds from the sale of the home —even if the person's name isn't on the deed.
"It can impact her rights to her property if she plans on keeping it in her name," Richardson said.
Both the domestic partners should iron out the agreement details.
"You can make it as creative as you want," Richardson said.