UPDATE: Papoose Says Remy Ma Isn't Pregnant
He announced his wife was expecting back in July.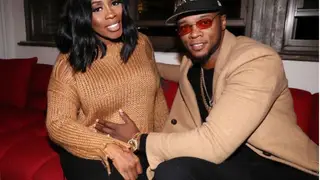 Papoose is walking back the news that his wife Remy Ma was going to have another child.
During a June interview with Fox Soul's Out Loud With Claudia Jordan, the Brooklyn rapper announced Remy was going to have the couple's second child. Now, during an Instagram chat with Hot 93.7's Jenny Boom Boom, he admits he prematurely spoke and explained they'd only just begun the in vitro fertilization process at the time.
"Within that in vitro process, there are necessary steps that we have to take for us to have a baby," he explained. "At the time when I made that announcement, my wife woke up one day and said 'Hey, I'm ready now since it's Covid, we're locked in. I don't think it's going to stop me from working. Let's do it.'"
The couple then went to the doctor and "started the procedure," according to Pap.
"When we started the procedure, I was so excited and I opened my big mouth and I said something about it and people not knowing how the procedure goes, that there are steps you have to take, they took it as she was already carrying our child. But what I was expressing was, 'Yo, we're having the next baby. She's ready because we already have the embryo,'" he said.
Watch the interview segment below.
Congratulations are in order!
Papoose has revealed that he and Remy Ma have a second bundle of joy on the way. Remy and Papoose previously welcomed their daughter, Reminisce MacKenzie aka "The Golden Child," on December 14, 2018. She is their first child together, and now they're family is expanding once again.
The New York rap veteran shared the exciting news during his recent appearance on Claudia Jordan's show, Out Loud, on Fox Soul last Thursday (July 2). When Jordan asked Papoose how his family has been adjusting to quarantine life, he shared that the additional time at home has been beneficial for them all. 

"I love being with my family. I get to spend so much time with my amazing wife and my amazing daughter. I'm just making the best out of it and we're moving forward," he told Jordan before making the big reveal. 

He continued, "some good things are actually coming out of this. We're gonna have a new child real soon. So, I'm feeling really good

The new bundle of joy will be the fifth addition to their expanding family. Remy has a son, Jayson, from a previous relationship, while Papoose has three children from previous relationships: Shamele, Destiny, and Dejanae. 

See the full interview below for Papoose's surprise announcement below: