'Ma Rainey's Black Bottom' Director George C. Wolfe Turns The Blues Singer's Story Into A Modern Day Marvel
Veteran Broadway director wanted to show all the multifaceted parts of the 1920's star life beyond the bawdy lyrics and heavy make-up.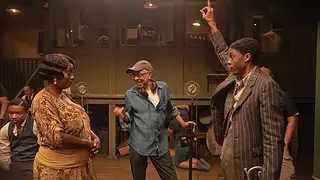 George C. Wolfe directed the Netflix film adaptation of August Wilson's Ma Rainey's Black Bottom and the project is a sight to behold. Wilson's careful text is re-imagined with the vivid colors, angles, and magic of modern-day filmmaking and production value, taking the work to another level. Academy Award winner Viola Davis is in the title role and there's an all-star cast featuring the likes of Glynn Turman, Colman Domingo and the late Chadwick Boseman. The film is set in a fictional day of the real-life of legendary Blues singer Ma Rainey in the summer of 1927. 
Wolfe is a playwright, director and theater veteran with a trophy case full of top honors including Tony Awards and Drama Desk Awards. You might know his work from Broadway productions like Angels in America, Top Dog/Underdog, and Bring in 'da Noise, Bring in 'da Funk.  

In a conversation with BET.com, Wolfe reveals details about his experience directing Ma Rainey's Black Bottom, working with producer Denzel Washington, and what it was like on set with this multi-talented cast. 

BET.com: Many of the Ma Rainey's Black Bottom cast members have performed August Wilson's work before. What was your relationship to his plays prior to this project?

George C. Wolfe: I'm familiar with August Wilson's work as an audience member. I've never directed August Wilson before, so this was my first time. It's such glorious language! The more I dug into the material while working with screenwriter Ruben Santiago Hudson, I was just dazzled and enraptured by the craftsmanship of the writing. He was a brilliant storyteller.
BET.com: With such rich material to work with, you still found a few ways to tweak it for the film adaptation. Tell us about that. 
George C. Wolfe: It's about making as complex and complete of a world as possible. We're talking 1927 here. The Black community had to support itself because it wasn't being supported by the government and by laws. They built their own communities and their own ways of existence. Ma Rainey was this incredible, showbiz entrepreneur, who owned two theaters. I had to make it clear that she was having a vibrant career when we catch up with her on this day in Chicago. She's not going there with any degree of desperation. She's going there as a very skilled and accomplished businessperson and as a commanding energy who was acutely aware of her work and powers.

BET.com: I loved the part when she said "Bessie who?"
George C. Wolfe: Exactly. She had been Bessie's mentor, and some believe they were lovers. But, also by this time, Bessie Smith was usurping her in record sales, so part of her defiance was about feeling very threatened.

BET.com: Denzel Washington is a producer of this project and that title can mean different things. What contributions did he make to the project?
George C. Wolfe: Denzel has taken on the stewardship of the estate and is making sure that August Wilson's 10 plays (The Century Cycle) are filmed and so Ma Rainey was the second one filmed. We talked about casting choices and Denzel was there every day on set. We both wanted Viola and I think I brought up Chadwick and he was so excited about that. We just shared ideas and came up with the cast and worked with casting directors for other roles. Denzel gave us very strong, supportive, generous, smart energy.
BET.com: Chadwick has this great speech where he's essentially cursing out God and it was really an energy shifting moment in the film.  What was it like to witness that scene on set?
George C. Wolfe: I don't know how many takes we did, maybe three or four. It's a Herculean scene for everybody. It was a monster undertaking. The actors were incredible and after every take, Chadwick would go to the stairs, which was outside of the room and rest and I'd come over and hassle him about notes or an idea. Take after take, moment after moment, he delivered and then some. 

Ma Rainey's Black Bottom premieres on Netflix on Dec. 18.