LA Rams Odell Beckham Jr. Is Taking His Salary In A Different Way, And It's Not Cash
Joining other NFL players in taking cryptocurrency seriously, he's also giving away $1 million to fans.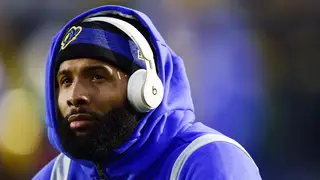 Los Angeles Rams wide receiver Odell Beckham Jr. recently revealed he'll be taking his new salary with the Los Angeles Rams in Bitcoin, the digital capital that leads the cryptocurrency world and is transforming how the world thinks of money..
In an announcement made in a video posted to his Twitter last week, the star three time Pro-Bowler captioned his post: "It's a NEW ERA & to kick that off I'm hyped to announce that I'm taking my new salary in bitcoin."
Beckham signed a one-year contract with the Rams earlier this month after playing 29 games with the Cleveland Browns. USA Today reports the deal is worth up to $4.25 million.