Five Summer Bangers That Hit No. 1 On This Day
Nelly, Aretha and Lil Nas X were topping the charts on this day.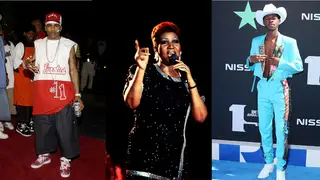 There is nothing like a summer banger and we are going back five decades for songs that ruled the charts on this day. From Roberta Flack to Lil Nas X, join us as we pay homage to talented artists whose work continue to reverberate through hottest season of the year.
"Feel Like Makin' Love" By Roberta Flack (1974)

On this day in 1974, Roberta Flack scored her third No. 1 on the Billboard Hot 100 with this classic. 

"Freeway of Love" By Aretha Franklin (1985)

From the Queen of Soul's thirtieth studio album "Who's Zoomin' Who?", this was her final No. 1 hit on the R&B chart.

"I Can't Wait Another Minute" By Hi-Five (1991)

This classic R&B track was written by Eric Foster White, who would go on to write for Whitney Houston, Britney Spears and the Backstreet Boys.

"Hot in Herre" By Nelly (2002)

You couldn't go anywhere the summer of 2002 without hearing this song. Produced by the Neptunes, this song track No. 1 on the Billboard Hot 100 for seven weeks 

"Old Town Road" By Lil Nas X (2019)

Montero made history with 19 weeks at number one on the Billboard Hot 100, which became the longest-running number-one song in the chart's history.