It's a Boy! Chrisean Rock Shares Baby Update During Emotional Gender Reveal
The reality star tearfully thanked supporters at her baby shower.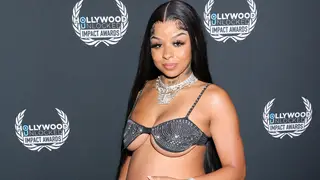 Chrisean Rock is known for being animated and authentic. The soon-to-be mom showed real emotion this week as she thanked friends and supporters at a baby shower/photo shoot with FashionNova.
The moment was captured by TMZ, where Rock, 23, is seen patting her eyes as she holds flowers and is surrounded by gifts from the fashion brand. She offers her thanks, and someone off camera replies, "Thank you, Chrisean."
In a social media post, she showed off several looks from FashionNova, writing in the caption, "The last pregnancy dump before my Baby Boy 💙 comes."
TMZ notes that Rock is in the last trimester of her pregnancy.
She is expecting a baby with rapper Blueface. The two have had a seemingly tumultuous relationship--much of which has been captured on their Zeus TV reality show, Crazy Love.
The on again-off again couple are not currently together, but fans hope they can be healthy co-parents.