Video Of Student Saying Blacks 'Should Not Be Alive' Alarms Colorado Parents
Fears of a potential school mass shooting have parents demanding action.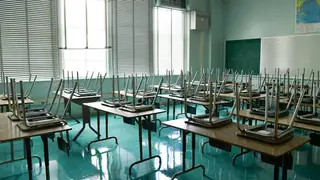 Parents in a Colorado community say that school officials should have taken more forceful actions after a video surfaced of a student making a racist rant. 
CBS Colorado reports that Cherry Creek School District authorities were aware in September of the racist video circulating among students at West Middle School in Greenwood Village.
In the 26-second video, the student says, "I hate Black [N-word]. Black [N-word] are cotton pickers. They should not be alive right now. I hate their skin color. I hate how they talk. They just stink up the room."
District officials told the station that they "realized the potential impact this video would have on the student community." The administration and law enforcement investigated. Although it was recorded off campus, school authorities informed the student's parents and disciplined the student. 
Privacy rights prevented the school district from revealing how it punished the student.
But parents told CBS Colorado that the school district suspended the unnamed student in the video but should have taken stronger actions.
"These kids don't understand the gravity because he pretty much just got a two-week vacation," a parent said.
Another parent, whose child received a copy of the video, feared the student's intentions.
"It was a racist manifesto. My initial reaction when I saw the video was if I'm going to hear about a mass shooting. It seemed like a preamble to someone that would mass shoot up a school," the parent, who has been targeted for speaking out on the issue, said.
Other parents criticized the school district's lack of transparency.
"They weren't equipping the parents to really keep their kids safe and to have a real conversation. If you have a bomb threat, you get more information," a parent said.
Meanwhile, the Rocky Mountain NAACP has called for a full investigation, including a federal probe.
"In a world where school shootings are the norm, this matter is serious and needs to be addressed immediately to prevent another mass school shooting like Columbine and many across the nation," the civil rights organization said, according to CBS Colorado.
In August, a gunman armed with an AR-15 semi-automatic rifle and a Glock handgun fatally shot three Black people at a Dollar General store in Jacksonville, Fla. The police said Ryan Palmeter, 21, left a suicide note, a will, and racist writings at his home.
Palmeter's killing spree was one of the latest in a list of mass shootings spurred by racial hatred, including then18-year-old Payton Gendron, who pleaded guilty to gunning down 10 Black at a Buffalo, N.Y., supermarket in 2022.