Besides The Horror In Buffalo, Here Are 5 Other Recent Mass Shootings Spurred By Racial Hate
The incident at a supermarket in Buffalo, N.Y., is just one example of an ugly trend that is becoming part of an American phenomenon.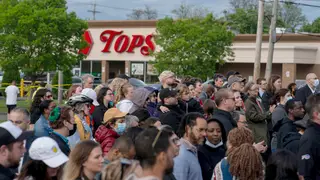 An incident of domestic terrorism has cast an ugly shadow on Buffalo, NY. An 18-year old suspect has been accused of fatally shooting 10 people on Saturday, (May 15) in what is being called a racially motivated rampage. The moment was horrifying enough, but it follows an ugly pattern of mass murders dating back more than a century in the United States and that includes those specifically targeting people of color.

The shooting at a grocery store also left three people wounded to carry the physical and mental scars from that day. All except a security guard were there to do Saturday afternoon grocery shopping and had no idea the gunman, Payton Gendron, had driven hours just to target Black people. He had even been told to leave the store a day earlier.
Gendron is just one of a long list of white supremacists who have gone beyond a written manifesto to take aim at people of color in the U.S. Many follow a theme of young white males feeling threatened by America's diversifying populations, and who espouse extreme far-right rhetoric easily found on the internet or perpetuated by conservative media outlets. Several also mention the racist, sociopathic "great replacement" theory, which is a belief that immigrants and people of color are removing whites from political and socio economic control of society.
According to the Gun Violence Archive, 2021 ended with 693 mass shootings in the U.S., while the year before there were 611 deaths from mass shootings and in 2019 there were 417 deaths. This type of premeditated violence has cost thousands of lives. Below are some of the more recent examples similar to what unfolded in Buffalo.
Mother Emanuel A.M.E. Church, Charleston, S.C. (June 17, 2015)

An evening prayer meeting with members of the historic congregation was joined by Dylan Roof, who, unbeknownst to them, was a racist with ulterior motives. He opened fire on the room with a semiautomatic pistol, killing nine including church pastor and South Carolina state senator Clementa Pickney, and wounding one. It is still viewed as one of the most terrifying incidents of racial violence in U.S. history.

Walmart, El Paso, Tex. (August 3, 2019)

Shoppers at the megastore were ambushed by gunman Patrick Crusius, who walked into the store with a semiautomatic rifle, firing off shots and killing 23 people, wounding another 26. Crusius was said to have extreme anti-Latino and anti-immigrant sentiments and targeted his attack specifically at those groups. However, 13 of the victims were Americans and eight were Mexicans who were shopping in a border town where activities like day-to-day shopping are common.

Dayton, Ohio Entertainment District (Aug. 4, 2019)

Hours after the El Paso shooting, clubbers and partiers who were out for a midsummer night on the town found themselves scrambling as they dodged an onslaught of bullets. Conor Betts, who entered the Ned Peppers bar with his brother and a friend, left and then came back with a semiautomatic rifle and began his shooting spree, killing nine and wounding 27. He was shot dead by police. Six of the deaths were of Black patrons, while three were white. What is different about this incident is that the shooter identified himself in earlier internet postings as a leftist.

Winthrop Mass. (June 26, 2021)

The normally quiet suburb near Boston was disrupted when Nathan Allen stole a plumbing truck and crashed it into a wall, then got out and started shooting. His bullets fatally struck retired Massachusetts state trooper David Green and Air Force veteran Ramona Cooper. Police killed him in response to the rampage. Journals kept by Allen revealed that he had embraced racist ideologies and listed multiple issues he had with Black people.

Midwest Shooting Rampage (July 2-July 4, 1999)

The people killed and wounded in the Independence Day weekend violent spree did not know each other, nor did they know they would be targeted by a deranged gunman. Benjamin Nathaniel Smith was a follower of white supremacist dogma. Beginning July 2, Smith wounded nine orthodox Jews in drive-by shootings in Chicago. He later came across Northwestern University basketball coach Ricky Byrdsong, who he shot dead in front of his children in Skokie, Ill. The next day he shot a Black minister in Decatur, Ill., and continued to shoot while missing nine others. On July 4, He went to Bloomington, Ind., where he killed Won-Joon Yoon, an Indiana University graduate student. Smith committed suicide during a poilce chase.