BET Awards 2022: The Star Studded Tribute To Sean "Diddy" Combs In Honor Of His Lifetime Achievement Award
Coca-Cola celebrates how the music mogul has influenced hip-hop and pop music for more than 30 years.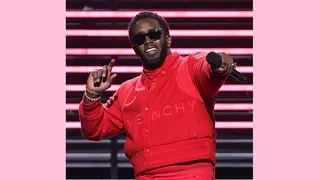 The Lifetime Achievement Award segment of the BET Awards is perhaps the most exciting of all the performances delivered on Sunday (June 26). And Sean "Diddy" Combs 's Lifetime Achievement Award at the 2022 BET Awards on Sunday, brought to you by Coke, was no exception.
The star-studded tribute was a who's-who of Diddy's career as a producer and promoter, opening with a video of Jay-Z discussing how influential Diddy was in helping rappers realize they could become businessmen.
The performances kicked off with Jodeci performing a medley of their songs underneath a logo of Uptown Records, where Diddy served as an intern under the tutelage of the late music exec legend Andre Harrell. Mary J. Blige then hit the stage to perform her Diddy-produced "I'm Goin' Down."
Diddy himself performed his verse on "Victory" before several artists hit the stage to either join him in a track or perform a song that he produced, including Shyne, Jadakiss and Sheek Louch from the Lox; Lil' Kim and Busta Rhymes.
The performances closed with Diddy and Faith Evans performing the megahit "I'll Be Missing You" in front of a video montage of deceased family and friends, including a message from Kim Porter, his longtime partner and mother to three of his children, who passed away in 2018.
Babyface and the erstwhile Kanye West delivered long, heartfelt speeches about their interactions with – and influence by – Diddy, before a highly-energetic Combs hit the stage to accept the award and deliver his thanks to God and everyone instrumental in his success before promising $1 million donations to both his alma mater, Howard University and to Deion Sanders' Jackson State program.
Started From The Bottom
Diddy is a product of the perfect marriage of timing, hard work, personality and the leveraging of good connections. Born in Harlem and raised in Mount Vernon, NY, Diddy's ascendancy in hip-hop/pop culture ranks started when he dropped out of Howard University as a business major, but not before gaining the reputation as a man that can throw a party – one he carries with him today.
Harrell famously fired Diddy three years into his Uptown tenure to manage his ego and allow him to grow and create his empire on his own. Harrell's instinct was on point: letting Diddy loose motivated him to start Bad Boy Records (now Bad Boy Entertainment). His first artists were the late Craig Mack, who got the engine running with the Grammy-nominated "Flava in Ya Ear," and the late The Notorious B.I.G.
Craig and Biggie dropped acclaimed debut albums in 1994, setting the framework for Bad Boy to become one of the most significant, successful and influential record labels of the 1990s. Diddy's ascendancy was captured, in part, by the 2009 Biggie film Notorious, in which he was portrayed by actor Derek Luke.
Indeed, there are very few Black music artists active between the years of 1993 and 2000 whom Diddy didn't influence passively or directly in some capacity – the list is extensive, but he played a pivotal role in the success of now-legendary artists including Biggie, his former mentee Usher, and tonight's BETHer Award Winner, Mary J. Blige.
Diddy was also instrumental in the latter three seasons of MTV's "Making the Band". The show, which put Diddy's outsized personality on display, allowed him to become an early viral sensation – most famously when he made future members of Da Band walk across the Brooklyn Bridge to obtain him a slice of strawberry cheesecake. The moment was parodied on a classic skit from "Chappelle's Show" in which Dave Chappelle portrayed Diddy (and featured actual members from Da Band).
For all the success he's had in developing artists, Diddy's own discography is only four albums deep – none more successful than his 1997 debut No Way Out, which is notable for containing some of the last verses from Biggie, who was at work on the album when he was murdered four months before its release.
The chart-topping singles, including "It's All About the Benjamins" and "I'll Be Missing You," a Sting/Police-sampled ode to Biggie featuring his widow Faith Evans on the hook, helped drive the album to go platinum seven times over. "I'll Be Missing You" is the first rap song in history to debut at #1 on the Billboard Hot 100 chart.
Diddy remains with his finger on the pulse of new music and artists more than three decades after his start at Uptown – Janelle Monae, French Montana and Machine Gun Kelly are currently signed with Bad Boy Entertainment.
Thread Master
In 1998, Diddy founded the Sean John clothing line, becoming one of the progenitors of the rapper-initiated clothing line (Wu Wear started three years prior; Roc-a-Wear was founded a year later). The cursive Sean John signature was ubiquitous on the gear of every celebrity even tangentially connected to hip-hop culture.
Diddy added to his multi hyphenate status when he stepped into cinema near the beginning of the century, with a bit role in the 2001 Vince Vaughn-starring film Made. That same year, he had a stunning turn as condemned prisoner Lawrence Musgrave in the Oscar-winning film Monster's Ball.
His myriad successes have made him one of the highest-paid Black entertainers in history, with an estimated net worth of about $900 million, according to Forbes.
Diddy has changed monikers several times throughout the years – from Puffy to Puff Daddy to Puff to P. Diddy to Diddy. Whatever you choose to call him, you probably couldn't find five people who had more of a direct impact on a generation of music than Sean John Combs has. So many legends have their own legacies inextricably linked to him, it's not a stretch to suggest that many of the playlists we rock to wouldn't exist without him.
Coca-Cola congratulates Sean J. Combs on this prestigious honor.