Exclusive: Babyface Talks About the 30th Anniversary of 'For the Cool in You'
The music legend takes us on a nostalgic journey through his third album.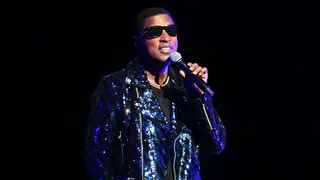 Exactly 30 years ago today (Aug. 24), Babyface's iconic album "For the Cool in You" was released. The third studio album for the songwriter and producer,  "For the Cool in You," was not just an album; it was a sonic treasure trove. With its silky-smooth melodies, heartfelt lyrics, and Babyface's velvet voice, this masterpiece carved its place in the hearts of millions, solidifying its position as a quintessential soundtrack to coolness, self-discovery, and romance. With every song – the exception of one cover – written or co-written by Kenny "Babyface" Edmonds,  "For the Cool in You" churned out five big hits, including "When Can I See Again," earning Babyface his first performance Grammy for "Best Male R&B Vocal Performance."
In this exclusive interview, Babyface takes us behind the scenes of the creation of this album and the era of early 1990s R&B. Sharing anecdotes, memories, and the passion that fueled each note, discover how "For the Cool in You" remains a beacon of musical excellence even after three decades.
Babyface: Looking back at it, it was more of an exciting time. It didn't necessarily feel any more exciting at the time that we were doing it. We were all just struggling trying to make good music and trying to have some songs that people liked. I remember going to Janet's house in Malibu and playing the "For the Cool in You" album for her. She played me her album, and I played her my album, and we both sat there and listened to each other's album on the couch with headphones on. [Laughs]  It was a time when we didn't know what was going to work or not work. I think that's the biggest thing. I  don't know if any of us at that point – even Janet, I'm sure she was probably very proud of her work - but everybody, whenever you put anything out, you cross your fingers that this was going to be an important project.
BET: "For the Cool in You" is your third album, and your first two – "Lovers" and "Tender Lover" – were big hits. For the third album, did you feel pressure, what was your feeling going into the third record?
Babyface: Even when I did "Tender Lover," the second album, the one thing that I always felt was I'm a producer and writer, and this is something else I get to do. So if it doesn't work, okay, I wasn't trying to be a big star. In many ways that could have held me back because I didn't go for it the same way. I didn't go on tour, support the records, and do the whole bit because I was still being a producer and a writer for so many things, which was actually my first love. In doing "For the Cool in You," it was always trying to figure out – who is Babyface? What do people think of Babyface, and how do I push that narrative about who Babyface is? How do I approach this? A lot of the songs that I would produce and write for other people, I couldn't do those songs because I didn't fit them. I chose the songs and wrote the songs that seemed to work with my voice and personality. That was the best way to go -- to try to stay honest about who I was as an artist from "Lovers" to "For the Cool in You."
BET: What was the vision for the title track, which was also the first single?
Babyface: That was written for the title track because  I remember hearing the Digable Planets song "Cool Like That." I thought, "Oh, I need a cool song." That just made me go down that road, and I just needed to figure out how to, once again, create a persona of something cool. That just seemed to be the record that made the most sense.
BET: What's so unique about this album is there were five singles and with each single, for the most part, the hits were getting bigger. Today, if the first single isn't a hit, people say an album is a flop. Were you surprised that with each single you released, you were getting bigger hits?
Babyface:  Back then, you didn't try to go out with your best first. You did try to come up with things that felt good, but you wanted it to grow. With the ballads, you never knew which one people were starting to lean towards. So, you start initially, and you put it out there, and you'd have your opening so that people could come and see the album – then you go from there. Everything was a surprise in terms of what it would be.
BET: "When Can I See You" is the fifth single that blew up. Tell me about the construction of that song and the response that it got all over the world.
Babyface: "When Can I See You" was a song I specifically wanted on this album. I started writing when I was a kid in sixth grade on acoustic guitar. That was my whole thing; I just wrote songs on acoustic guitar. I listened to James Taylor and Kenny Loggins – Loggins and Messina back then. Those are the songs that I grew up listening to and playing, so I wanted to try to have that kind of feeling on my record, to go back to my roots. I wanted to write a really simple song that was just acoustic guitar and a voice and put a little beat to it. Other than that, it was very plain and just straight in your face, and just heartfelt.
I remember I wrote that song in Atlanta; I had a condo there. I wrote it inside my apartment. When I finished it, my manager at the time, I called him over and played it for him and said, "What do you think?" And he said, "I think this is good. It's not normal." I said, "Well, I think I'm going to do this, this is a record I want to put out there. I don't know what it's gonna do because it's not R&B, it's just heart." So, it was an experiment. I didn't put it out there thinking this is going to be a smash; I put it out there thinking -- I hope that people like this.
BET: The song was a huge smash. Although you won Grammys before, you won your first performance Grammy for  "When Can I See You." Having this big solo hit on your own, how does that feel as somebody who is seen as a producer songwriter?
Babyface: The crazy thing is that there was just so much going on all the time and so many projects that were happening -- I kind of missed that whole time.  I didn't stop and smell the roses, so to say. It happened, and I was appreciative, but then I moved on. I constantly was just moving on to the next… I look back at my career and all the songs I've done, from producing and writing, and I don't know how I did all that. No matter what was going on, whether it was drama in my life or whatever,  the one thing that I stayed focused on was writing. I kept writing music and producing, and that kept me sane.
BET: You did one cover of "For the Cool in You," which was Billy Preston's "You Are So Beautiful." What made you cover that song?
Babyface: I just always loved that song. It's a funny thing because that song became a cultural moment for me. I ended up performing that song at the wedding of "Martin" so that became a song for so many Black weddings. [Laughs] People so wanted me to come sing "You Are So Beautiful" at their weddings. When I did that song, I didn't think of it that way, but it became cultural because of "Martin."
BET: Thirty years later, what is the legacy,  musically and culturally of "For the Cool in You"?
Babyface: The more that time goes by the more important the project seems. It was a unique project, unique in the sense that I wasn't copying anybody. It wasn't like you could say, oh, this sounds like this, or this sounds like this artist. I found myself. In those early records, I was always in search of trying to find out who I was as an artist. Now, looking back at it, it's an album that certainly speaks to a lot of people. It becomes a moment in time that people can look back on and remember where they were, who they were as people, and what was going on in their lives. When you have music that can do that, that's the ultimate goal -- to be able to touch people and have them time travel.
BET: Lastly, you are also in the upcoming BET game show "Celebrity Squares." Tell us about that.
That was fun. I didn't know what to expect. It was fun. I think it's going to be a great show. All the celebrities were there, they were great. I think it's going to be awesome.