Outrage After Donald Trump Asks Reporter April Ryan to 'Set Up' Meeting With Congressional Black Caucus in Ridiculous Press Conference
The president can't believe he's a politician, and neither can we.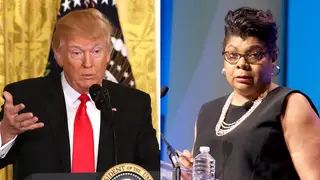 On Thursday, President Donald Trump held a press conference that many are calling a complete and utter disaster. In addition to ranting about his election numbers and dodging questions about interactions with Russia, Trump made several decisions that made people shake their heads. 
When taking a question from journalist April Ryan regarding meeting with the congressional black caucus, Trump suggested Ryan set up the meeting

Ignoring the fact that Trump is the president and can set up his own meeting, his comment suggests that April Ryan is friends with the CBC because all black people know each other

His request for Ryan to set up the meeting was not the only insulting part of his interaction with her. Before she even asked the question, Trump insinuated that she would not be capable of asking a fair question and once he deemed her question appropriate, he condescendingly called her "very professional."

Then, once Ryan asked if he would be meeting with the CBC, who have already attempted to meet with the president, Trump then told her to set up a meeting.

Although the moment in comparison with the rest of the press conference may have seemed small, it outraged so many people it became a trending topic on Twitter

Fact: April Ryan has been covering the White House in a professional manner for decades. Fact: all Black people do not know each other. Fact: the inner cities are not worse than any country in the Middle East. Fact: President Trump will need to work very hard to win the trust of the Black community.